Boston's most haunted places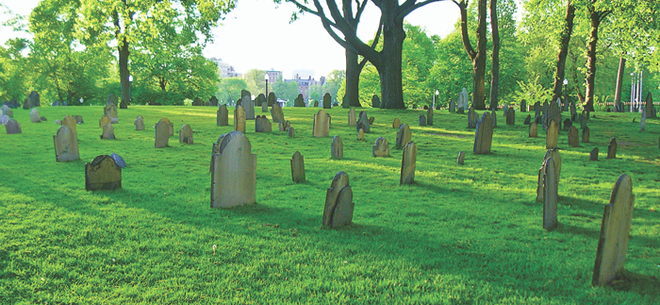 In a city as old as Boston, there are bound to be a few ghosts hanging around. Founded in 1630, the city has seen its share of tragedy. Here are a few of Boston's most haunted places.
Omni Parker House, 60 School St
. Situated right on the Freedom Trail, the Omni Parker House has been a symbol of luxury in Boston since 1855. It's also known as one of the city's most haunted spots. Hotel founder Harvey Parker is said to roam the halls—although he hasn't been spotted in about 20 years. Other ghostly encounters that have been reported: Elevators acting of their own accord, shadowy figures, orbs of light on the tenth floor and the sound of creaking rocking chairs. Of course, there are no rocking chairs at the Omni Parker House.
Cutler Majestic Theatre, 219 Tremont St
. When the Majestic Theatre opened its doors in 1903, the
Boston Globe
raved that it was the most beautiful playhouse the city had ever seen. The ornate theater still serves as a popular venue for shows, but it's also become known its ghostly residents. Some say they've seen the ghost of a former Boston mayor who died during a performance, while others say the theater is home to a little girl who'll accept hidden gifts that are left for her.
Boston Common.
The country's oldest public park may look cheerful and innocent during the day, but nighttime reveals the Common's dark past. The park was the site of public hangings until 1817, and there you'll also find the old Central Burying Ground. Considered the least desirable burial ground in the city because of its location, the cemetery contains the graves of foreigners who died in Boston, British soldiers who died during the Revolution, and patriots who died during the Boston Tea Party. Witnesses have reported seeing a woman in black roaming the grounds.
The T.
Boston's subway system is the oldest in the country, and if you've ever waited for a train in an empty station, you know just how creepy the city's underground tunnels can be. Last year, the Biography Channel sent a team of paranormal investigators to explore the city's underground and they came back with some unsettling discoveries. At one point during their visit, deep within the tunnels, their flashlights and all of their equipment died. Some might say it was a communication from the ghosts of six people who were killed by a gas explosion along the corner of Boylston and Tremont streets in 1897.