Lawn on D presents "Pentalum"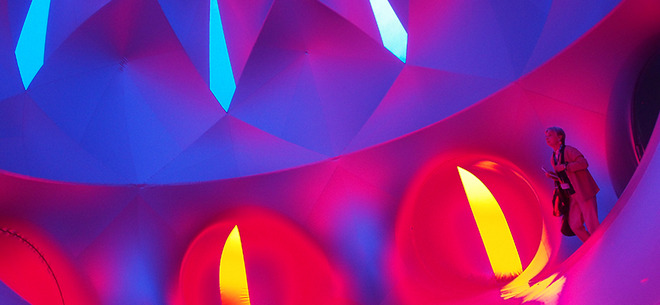 Lawn on D in South Boston is at it again with their latest interactive outdoor playground, "Pentalum." The labyrinth of shapes and colors covers 16,900 square feet of space and was designed by the British Firm, Architects of Air. The intricate structure, which looks a bit like a row of inflatable castles, uses natural light to create a captivating color show on its curved walls, domed roofs and maze-like walkways. After stopping in 38 countries, "Pentalum" has landed on the East Coast for the first time. You can explore the maze yourself for a $5 dollar cash only admission fee. Lawn on D is an interactive outdoor space with the goal of fostering public engagement as well as creative ingenuity.
Pentalum will be on the Lawn Thursday, May 28th, 1:00 p.m-7:00 p.m. Friday, May 29th, 1:00 p.m. – 7:00 p.m. Saturday, May 30th, 12:00 p.m. – 6:00 p.m. Sunday, May 31st, 12:00 p.m. – 6:00 p.m.