Winter Warmers
Beat the chilly weather by indulging in these hot cocktails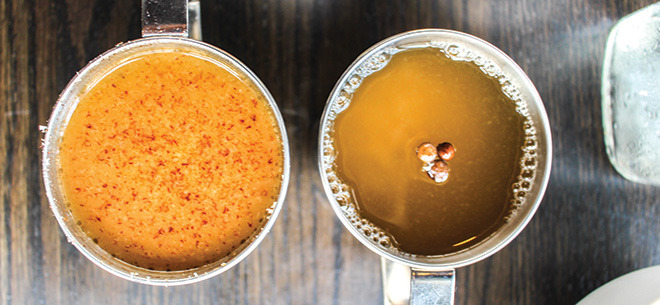 The Fat Monk at Post 390 (406 Stuart St., 617-399-0015, post390restaurant.com): If the four-sided fireplace in the first-floor tavern at this bi-level Back Bay restaurant doesn't heat you up, this libation featuring Old Monk rum infused with brown sugar and spice-dusted sugar pumpkins fat-washed in brown butter—along with sherry and hot orange-scented water—certainly will.
Tea Party at Outlook Kitchen + Bar (The Envoy Hotel, 70 Sleeper St., 617-338-3030, theenvoyhotel.com): This appropriately named beverage—Outlook is on the Fort Point Channel near the site of 1773's celebrated Boston Tea Party, after all—consists of Privateer Amber rum, Earl Grey tea and chamomile tea leaves brightened by the addition of local honey and lemon zest, along with a dash of cinnamon and a lemon twist for good measure.
Nutty Snowman at Cask 'n Flagon (62 Brookline Ave., 617-536-4840, casknflagon.com): The Sox may be dormant, but you can inspire an early thaw at this sports bar located next to Fenway Park with its hot chocolate drink enhanced with Frangelico, Gozio amaretto and topped with whipped cream.
Honey Apple Warmer at Legal Harborside (270 Northern Ave., Liberty Wharf, 617-477-2900, legalseafoods.com): Warm up with a harbor view and this potent concoction—crafted with Bärenjäger Honey liqueur, Laird's Applejack and accented with spice box syrup, citrus and cloves—at Legal Sea Foods' smoking hot Seaport District outpost.
Mind Glow at River Bar (661 Assembly Row, Somerville, 617-616-5561, river-bar.com): Winter wouldn't be the same for many New Englanders without a warm drink and a roaring fire. Approximate this ski lodge scene by relaxing by one of the fire pits at this restaurant overlooking the Mystic River and indulging in its hot toddy featuring rye whiskey, Bittermens Hiver Amer, lemon and honey.
Caffeine Machine at The Friendly Toast (1 Kendall Square b3101, 617-621-1200, thefriendlytoast.com): This eclectic, funky spot in Kendall Square known for its breakfast—which is served all day—is the perfect place to indulge in some spiked java. Enjoy a mix of Van Gogh Dutch Chocolate vodka, white crème de cocoa, coffee, whipped cream and cocoa powder that can be served hot or cold.