Celebrating History
Faneuil Hall Marketplace Merchant's Association President Carol Troxell discusses the historic shopping, dining and entertainment destination's 40th anniversary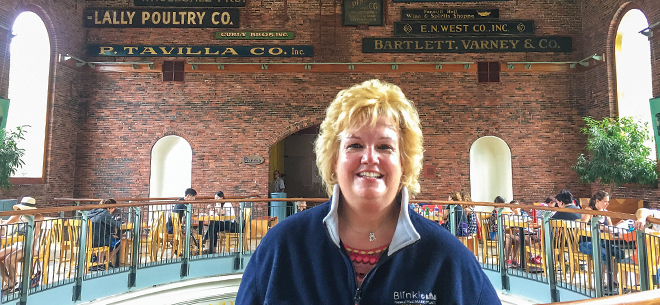 Faneuil Hall Marketplace is celebrating its 40th anniversary with an array of events on the weekend of August 26–28. President of the Faneuil Hall Marketplace Merchant's Association Carol Troxell hopes you can join in the festivities. "We're looking forward to celebrating with all the local people—those Bostonians right in our neighborhood—and also visitors to the city," she said. "I welcome everybody to come and see us, to support the local merchants here and to really just have a great time and celebrate the anniversary."
A longtime merchant in the area, Troxell loves the vibrant community of vendors and restaurants who have come together in a place "that is not like any other." At once full of history and a world-class marketplace, this cluster of picturesque market buildings across from Boston's City Hall regularly offers architectural tours, eclectic shopping, free live entertainment and special events. The 40th anniversary celebration kicks off with a street performer showcase on Friday, August 26, that features jugglers, magicians, musicians and more. On Saturday, a '70s-themed dance party should get attendees in a retro mood with Motown and disco performances from Bernard Fullen (1 p.m.), The Sugarbabies (2 p.m.) and Vinyl Grooves (4 p.m.). Sunday follows with a Red Sox Showcase you won't want to miss, complete with a Green Monster replica and virtual reality experience. Also on Sunday is "roll back pricing" from 3 to 6 p.m., during which merchants in the Quincy Market Food Colonnade offer select items at 1976 prices. Think Mexican street corn from Mija Cantina & Tequila Bar for only 12 cents!
Troxell has many fond memories of the marketplace, and sees the anniversary celebrations as a fitting tribute to one of the Hub's beloved places to shop, eat and relax. What's in store for Faneuil Hall Marketplace's next 40 years? "I just hope that it continues to be a local market, as special to Bostonians as it is to visitors!" exclaims Troxell.
Happy 40th anniversary, Faneuil Hall Marketplace, and many more to come!
Faneuil Hall Marketplace 40th Anniversary Celebration
August 26–28 at Faneuil Hall Marketplace, 617-523-1300, faneuilhallmarketplace.com. Free.