Boston Accent: Hub of the Hub
Downtown Boston BID President Rosemarie Sansone marvels at the transformation of the city's nexus of shopping, dining and culture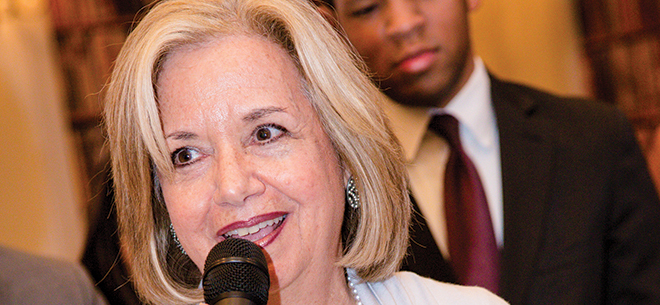 Rosemarie Sansone is watching a transformation taking place in Boston's downtown. "If someone who hasn't visited during the past three or so years came downtown today, they would see such a difference," she claims. Sansone, whose career includes decades of service in Boston's public sector, helped formulate and is now president of the Downtown Boston Business Improvement District (BID).
Downtown has long been the heart of Boston's shopping and public transportation system—a true hub for the Hub. What is new, says Sansone is "a more European feeling in terms of sharing the outdoor space." While the skyline soars with new residential complexes and department stores alongside historic buildings, at street level, people sit and share a coffee, listen to a pop-up concert or a brass band, and watch shoppers, commuters and tourists walk along the sidewalks and pedestrian streets of Downtown Crossing. The area is brimming with "life, energy and urban-ness."
Part of that energy becomes visible in the number of events that happen downtown thanks to the Downtown Boston BID. Downtown is once again hosting several runway shows and other events related to Boston Fashion Week (September 23–30). There is also a Fashion Week "Photographe De Mode" pop-up art gallery featuring the work of photographer Tracy Aiguier in the Lafayette City Center Passageway that connects Macy's with the Hyatt Regency Hotel.
Of course, delicious food is always in fashion, too. Many fine dining choices are available, from stone-fired pitas at the upscale Yvonne's (2 Winter Place) to beers in the brick-lined warmth of the popular JM Curley just around the corner (21 Temple Place). Sansone's list of soon-to-open restaurants this fall includes San Francisco chef Michael Mina's sushi bar Pabu in Millennium Tower (corner of Franklin and Washington streets). These are only a fraction of the options, which explains why many choose to dine downtown before attending a performance in the nearby Theatre District.
Whether you are a first-time Boston visitor exploring the Freedom Trail, a permanent resident shopping early for the holidays or just looking for a special night out, the decision to head "Downtown" is an easy one.
Boston Fashion Week
September 23–30 at various locations, bostonfashionweek.com