Small Plates, Italian Style
Newcomer Parla leads the charge for small plates in the traditionally Italian North End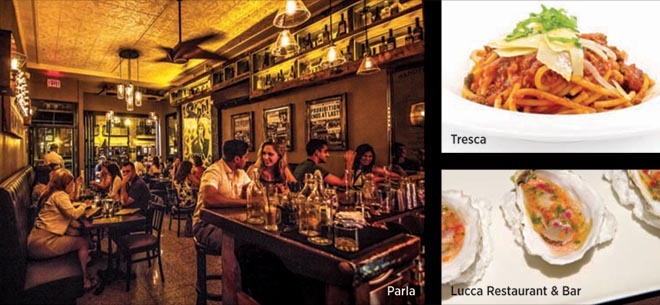 If it's a craving for a variety of flavors, a penchant for smaller portions or simply indecisiveness that guides you when dining out, then small plates are perfect for you. No longer confined to Spanish tapas restaurants, the small plates concept has even spread to the very Italian North End. And why not? As chef Eric Buonagurio observes, "Small plates bring people together."

Buonagurio helms the kitchen at North End newcomer Parla (230 Hanover St., 617-367-2824, parlaboston.com), a speakeasy-inspired eatery that is focused on serving creative Italian cuisine using unique, fresh ingredients. A recent menu featured dishes that included squash blossoms, roasted pineapple and squid ink olive oil. Since its April debut, Parla has consistently proven that this isn't your padre's North End restaurant.

One way this is true is the inclusion of a small plates menu. Smaller than typical antipasti offerings, these "piatti piccoli" give diners a taste of such delectable dishes as wild boar meatballs and braised oxtail arancini. Chef Buonagurio has also installed his own rooftop garden full of herbs and vegetables, so, as he states, "Every dish gets something from the garden."

This sometimes unconventional approach has not gone unnoticed. Parla was recently named "Best Italian—Nouveau" by the Boston A-List on boston.cityvoter.com. The bar has also drawn accolades for its unusual craft beer selection, as well as its Prohibition Era-influenced cocktails and wines from smaller vineyards.
From small beginnings, it would seem that Buonagurio and Parla are on to something big.