An Inside Look on Saint Anthony's
Saint Anthony's Feast Chairman Joe DiGirolamo gives an insider's view of the famed North End celebration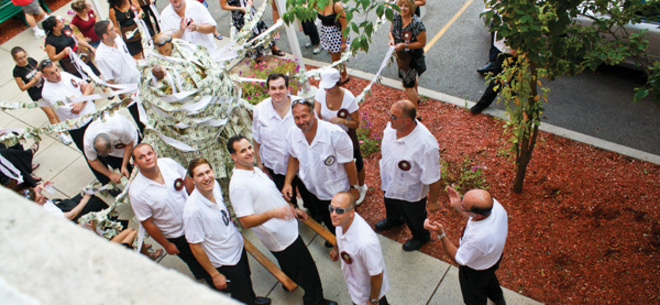 As a born-and-bred native of the North End, Saint Anthony's Feast Chairman Joe DiGirolamo has had a long association with New England's largest Italian religious festival. "Every August it was a celebration of my heritage, culture and, of course, my religion. As a boy it was a hope to carry a flag or the statue of Saint Anthony." After nearly 15 years in his current role helping organize this joyous celebration, it's safe to say he has more than realized his childhood ambition.
DiGirolamo has also witnessed first-hand the growth of Saint Anthony's Feast. Attendance has continued to expand, thanks to a combination of local and national media coverage, exposure on the Internet and social networks, as well as additions over the years like the Culinary Stage, where celebrity chefs showcase their cooking talents. Yet even with such changes, DiGirolamo acknowledges, "The Feast itself still maintains its original traditions and integrity. The outdoor religious services—the Grand Procession of Saint Anthony—coincide exactly with the one in Montefalcione, Italy, where this Feast originated."
As usual, the Feast promises grand daily parades and lots of music, not to mention authentic Italian food from a multitude of street vendors and area restaurants. But what, you may ask, is the favorite part for an inside like DiGirolamo? With so much to choose from, he offers a two-part answer. "Watching the visitors that come to the Feast for the first time—the awe they are in as they walk the beautifully decorated streets and are amazed by all the great foods and aromas." He adds that the coming together of multiple generations of families from near and far is also a big thrill.
As Boston's oldest neighborhood and bastion of Italian culture, the North End has no shortage of attractions besides the Feast. "Not only do we have the Freedom Trail with great historical sites, but the restaurants, bakeries and salumerias are world-class," DiGirolamo states.
It's really the people that make up any neighborhood, and although the faces in the North End may have changed over the year, DiGirolamo lauds the people as "the most friendly and generous folks you will ever meet, who are proud of their heritage and their culture." Whether visitors come here for the Feast, the Old North Church or a slice of pizza at world-famous Regina Pizza, as DiGirolamo declares, "It's a place everyone must visit and a place you will surely want to come back to!"