A Peek at the Past: The South End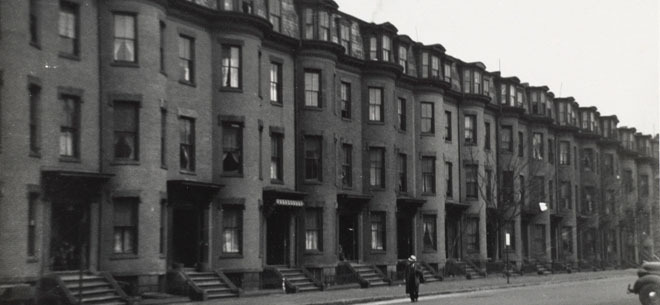 Much like Boston's famed Back Bay, the South End was mainly a product of the Victorian era when acres of new land were created through ambitious landfill projects. In fact, many of the brick row houses of this historic area pre-date the development of the Back Bay, where well-to-do South End families moved in the late 19th century when South End developers steered their efforts toward creating more affordable housing. While the Back Bay has remained fashionable throughout its existence, it is largely only in the last few decades that the South End has become the hot property it is today.
Originally just a narrow isthmus called Boston Neck that connected the Shawmut Peninsula—home to the oldest parts of the city like Beacon Hill and the North End—to the mainland, the South End (not to be confused with South Boston, which lies to the southeast) has changed as much as any neighborhood in Boston over the years. The aforementioned landfill projects began in the 1840s, but it wasn't until the 1850s that renowned architect Charles Bulfinch came up with a plan for constructing the brick residences, many of them bow-fronted (pictured above), that would become the area's signature. These were in turn surrounded by small parks with fountains, many of which still exist. A financial crisis in the 1870s precipitated the flight of the upper class to the Back Bay, however, leaving working-class families and immigrants to fill the increasing amount of rooming houses that were being built instead of the more desirable single-family townhouses from earlier years. An influx of African Americans in the early 20th century helped establish a strong jazz scene, and the gay community, a backbone of the area, began to establish itself as early as the 1940s.
Urban decay and crime that became a problem in the 1960s began to reverse when families moved back to the South End, helping restore its Victorian splendor. That effort was aided by the formation of the South End Historical Society in 1966, which got the locale listed on the National Register of Historic Places in 1973, and the designation of the South End as a Boston Landmark District in 1983.
Today the neighborhood is known for its dining and arts scene, anchored by the Boston Center for the Arts to the north and the SoWa (South of Washington Street) District in the southern reaches. Combine this with a vibrant LGBT community and a diverse population, and the South End is hotter now than it ever was.