A Feast for the Senses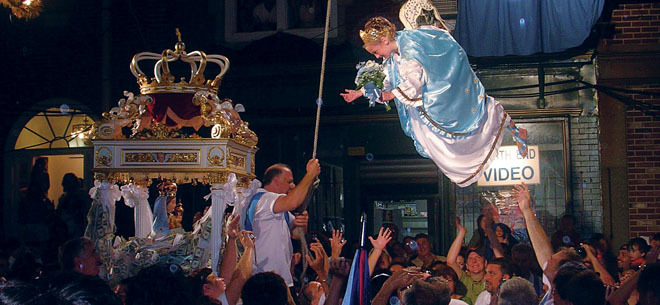 A beloved Boston event dating back to 1910, the North End's Fisherman's Feast is a joyous celebration of Italian cuisine, culture and, of course, the bounty of the sea. Brought to these shores by immigrants from Sciacca, Sicily, and based on a ceremony that goes back to the 16th century, the festival honoring the Madonna del Soccorso (Our Lady of Help) is still carried out by descendents of those original fishermen immigrants and is the neighborhood's longest continuously running Italian festival.
Taking place this year from August 13–16, the festivities begin with the opening night Blessing of the Fleet and Fishing Waters at the North End's waterfront Christopher Columbus Park. Although the Sicilian fishing boats are long gone, this symbolic gesture remains a unique tradition.
The rest of the weekend is punctuated by live music, DJs, carnival games and plenty of food vendors on Hanover, Fleet and Lewis streets in the North End. Two key elements, however, remain at the heart of the event, both taking place on Sunday, the final day. The first is the Grand Procession of the statue of La Madonna del Soccorso di Sciacca through the streets of the North End beginning at 12:30 p.m. The capper of the fest is the famed Flight of the Angel (pictured) at 8 p.m. This spectacle involves the lowering of a young girl dressed as an angel from a third-story window who proceeds to fly over the crowd and to the Madonna statue. A short prayer ensues before the angel is raised back to her window and the cheering crowd is showered in confetti.
And if there's not enough pizza, pasta, sausage and calamari to satisfy you, enjoy even more merriment as the North End hosts a variety of religious feasts and processions throughout the summer. For a complete schedule, visit northendboston.com/visit/feasts.