Boston Accent: The Long Run
Filmmaker Jon Dunham talks about the long and rewarding process of crafting his new documentary chronicling the history of the venerable Boston Marathon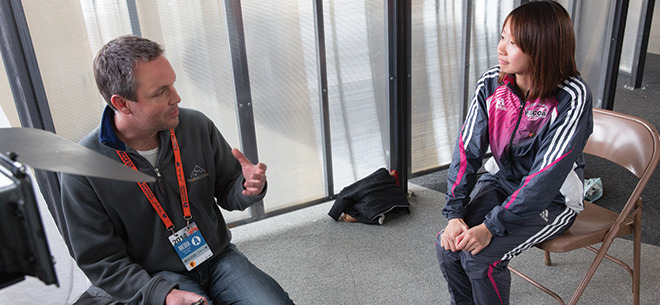 Photo: Michael J. Lutch
Following his Spirit of the Marathon films featuring the Chicago and Rome races, filmmaker Jon Dunham turned his lens to "the granddaddy of them all" for a new feature-length film, Boston: The Documentary, his ode to the world's oldest annual marathon, which features narration by Massachusetts native and fellow Boston Marathon appreciator, Matt Damon. "The film is what I always wanted it to be," says Dunham. "In many ways, it's the ultimate running film."
While he has yet to join the ranks of those who've run on Marathon Monday, Dunham is himself a 25-time finisher of other marathons who likes to keep fit along the Charles River Esplanade when he visits the Hub. "Being a runner, I really enjoyed learning more about the Boston Marathon's early history. I felt a kinship with some of those early champions. In the film, we see working-class men who found accomplishment and identity through the marathon. It's neat to personally connect with those same sentiments from history." Aside from using archival footage obtained from the Boston Athletic Association (BAA) and his own coverage of the 2014 race—the first following the tragic 2013 terrorist bombings—Dunham also explored the race's international appeal. He travelled the world interviewing past champions, including Rosa Mota, Ibrahim Hussein and Rob de Castella, to name a few.
Directing this documentary was no easy feat. Dunham first approached the BAA about the project back in 2012; five years later and with the premiere just around the corner, his pride is similar to that of a runner at the end of a hard-fought race. "Being an endurance athlete is a good prerequisite to being a filmmaker. You have to be dedicated, you have to just keep putting one foot in front of the other to get to the finish line."
Boston: The Documentary makes its world premiere on One Boston Day—April 15—at the Boch Center's Wang Theatre. For this special event, Emmy Award-winner Jeff Beal conducts his original score live with the Boston Pops Esplanade Orchestra, and a portion of ticket sales benefits Martin's Park, a project of the Martin Richard Foundation named in honor of the Boston bombings' youngest victim. The film receives its nationwide release less than a week later on April 19.
BOSTON: The Documentary
World premiere April 15 at 8 p.m. at the Boch Center's Wang Theatre, 270 Tremont St., 800-982-2787.