Boston Accent: Building Excitement
Megan Amaral, master model builder at Legoland Discovery Center Boston, crafts summer fun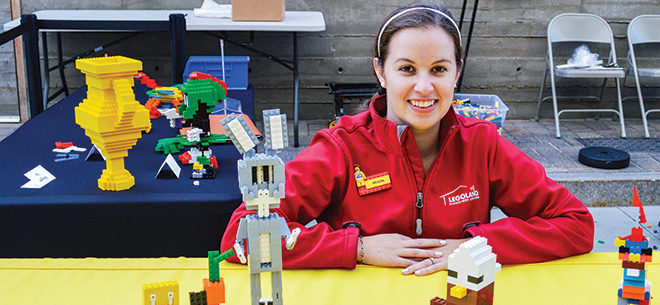 Megan Amaral has the kind of job that most children (and adults) merely dream about. Amaral, a Massachusetts native with an architecture degree and a life-long love for building with Lego, is a master model builder at Legoland Discovery Center, the activity-filled, family-friendly destination at Assembly Row in Somerville, filled with literally millions of Lego bricks. The journey wasn't easy; the competition for this position is fierce. Yet through continued dedication and participation in multiple contests, Amaral attained it, and now she spends her days exploring the endless possibilities of Lego's entertaining construction system.
"I love solving problems," Amaral explains. "Every Lego project I undertake is a problem waiting for a solution." Her duties as a master model builder include teaching classes and constructing projects that complement the center's thematic programming.
Amaral is currently thrilled about a new ride available for ages 6+ (adults, too!) called the Great Lego Race VR Experience. "The VR Experience is classic Lego—things are crazy," Amaral says. "There are bright colors and everything is moving as you race against a pharaoh in chariots. You wear VR goggles that give you a 360-degree video experience as you sit on a moving chair, so everywhere you look, there's an entire Lego world." Boston's Great Lego Race is the first use of virtual reality at any Legoland Discovery Center.
To complement the Great Lego Race, Amaral is leading a Kid vs. Grown-Up challenge, in which children and their parents compete in a timed build based on the chariot race (available August 4–26). Amaral is continually amazed at the creativity that children display when they use Lego. "The kids make crazy builds…for them, every single Lego piece is part of a story that they've imagined." The champion of the challenge receives a trophy built by Amaral, as well as a private build session.
If the center's entertaining rides and hands-on challenges inspire you—I mean, your kids—to become a Lego master, Amaral has words of encouragement. "Just keep building and challenging yourself.…There is always more than one way to build something. If you find one way, don't stop there. Explore working with new sizes and pieces. The sky really is the limit."
Legoland Discovery Center
598 Assembly Row, Somerville, 866-228-6439, boston.legolanddiscoverycenter.com