Boston Accent: Preserving the Past
David Manzi, president of restoration specialist Trefler's, touts his company's knack for bringing history back to life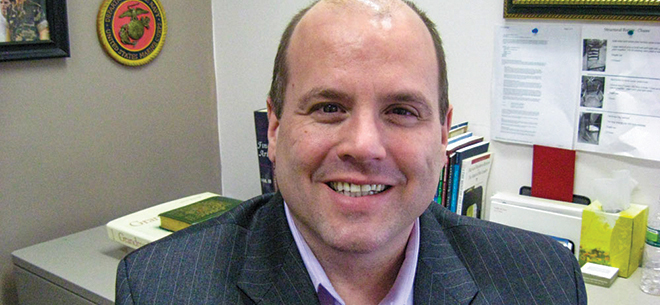 As president of Trefler's, Boston's premier art and furniture restoration business, David Manzi honors both fine craftsmanship and sentimental value. "Items come through our door with many interesting stories, whether it's the history of a valuable piece of artwork from a master, or a sentimental story from a family member who treasures their favorite things."
Manzi wasn't always in the art business. After serving in the U.S. Marine Corps, he joined the business in 2002, helping out with deliveries and light maintenance. "I had zero background in art and restoration," he admits, yet with dedication, Manzi progressed through departments, earned an M.B.A., and eventually became president of the 97-year-old company.
He's proud to be at the helm of the oldest, and largest, full-service restoration companies in the United States. "In my mind, we have the best conservators in the world.…They are all special people who are highly trained in their fields and they continue to improve." All manner of items are entrusted to Trefler's. "We have such a diverse portfolio of porcelain, china, crystal, upholstery, furniture and decorative arts that you never know what you're going to see on any given day," Manzi describes.
Visitors to its location in Newton (20 minutes west of Boston) are always welcome to tour the studios and get a taste of this variety and expertise for themselves. This October, those who want to give some TLC to a treasure of their own have an additional opportunity to meet the Trefler's team at the Boston International Fine Arts Show (BIFAS, October 18–21), an annual art fair at the Boston Center for the Arts' Cyclorama building on Tremont Street. BIFAS attendees are invited to bring photographs of objects in need of restoration to the Trefler's booth for a free estimate. "We always get a nice flow of people through the weekend," Manzi says. "We look forward to it every fall.…The event is a rite of passage for the season, for me."
Whether you are a client or casual inquirer, an attendee at BIFAS or a visitor to the studio in Newton, Manzi is always happy to meet new people and their beloved objects. "We get items sent in from all over the world. It's interesting to see all these unique pieces. Above all, you realize how much people really treasure their items—sentimental value is tremendous."
Boston International Fine Art Show
October 18–21 at the Boston Center for the Arts' Cyclorama, 539 Tremont St., 617-363-0405, fineartboston.com. $15; Gala Preview: $125 & 250.