A Conversation with the SMFA Art Sale's Nina Johnson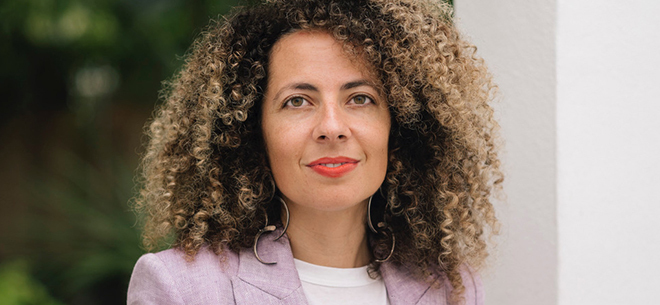 Photo: Gesi Schilling
The School of the Museum of Fine Arts at Tufts University (SMFA at Tufts) presents the 38th annual SMFA Art Sale from November 9–23. Previously, the event had been New England's largest in-person contemporary art sale. Now, for the first time, the sale is going online and global. Art lovers everywhere can shop 24/7 from more than 300 emerging and established artists, with curated pieces selected by a jury of artists, gallerists and curators. Jurors for this year's sale include Akili Tommasino, associate curator of modern and contemporary art at the Museum of Fine Arts, Boston; Nina Johnson, SMFA alumna and director of Nina Johnson Gallery in Miami; and Shinique Smith, SMFA alumna and artist.
This is an event with a lot of heart. Not only does the sale provide crucial visibility to artists who have been impacted by the museum and gallery closures from COVID-19, it is also SMFA at Tufts' biggest fundraiser. The proceeds of each sale support the contributing artist and a dedicated scholarship for students from underrepresented groups. The event prioritizes work from Black, indigenous, LGBTQIA+ and feminist communities, providing artists often overlooked by mainstream contemporary art with an opportunity to have their work seen widely.
Additionally, between six and nine complete pieces from the SMFA at Tufts' "Exquisite Corpse" project are available for purchase as a part of the sale. A project inspired by the link between the current pandemic and the influenza pandemic in 1918, "Exquisite Corpse" uses a drawing technique developed by the Surrealists in which multiple artists co-create art by drawing on a single piece of paper together. Participating "Exquisite Corpse" artists include SMFA at Tufts faculty members Ethan Murrow, Ria Brodell and David Antonio Cruz, and alumni Sheila Pepe, Jed Caesar and Nicole Cherubini.
Panorama spoke with Nina Johnson, director of Nina Johnson Gallery in Miami, Florida, to discuss the upcoming virtual Art Sale and what is in store for attendees.
What are some of the benefits of the SMFA Art Sale being virtual this year?
The great thing about a virtual sale is that everyone can attend, while there's never a replacement for seeing works in person, this is a safe way to support an amazing cause from home.
This sale is Tufts' biggest fundraiser. The proceeds of each sale go directly to the contributing artist and a scholarship for students from underrepresented communities. Why is it important to support artists—particularly BIPOC, LGBTQIA+ and feminist artists?
Artists are always opening up the way we see ourselves and the world around us. In a time when we are often reverberating our own thoughts in the echo chamber that is social media, art can offer us new lenses through which to view the world.
How are the pieces selected?
The works were selected by a group of jurors, myself included. I can't speak for my colleagues but I can say that I was looking for work that represented a wide range of perspectives, styles and media.
Now more than ever, art is being created as a way to reflect the intensity of current events. As a juror, what trends or themes did you notice within these newer works?
I can't say that I noticed any particular themes emerging; rather, I tried to select pieces that represented different points of view, both aesthetically and conceptually. Unfortunately because of the process I can't recall specific names of pieces or artists, but I can see that I loved seeing so many works that seemed to engage with ideas of self and representation.
Being an SMFA alumni yourself, in what ways has the SMFA Art Sale grown or changed since you attended the school?
The sale has always been an amazing way to see how the community evolves over time; you have young artists often showing or selling work for the first time, paired alongside masters of their field—I don't think that's changed. What I do see being different now, especially this year, is how broad the reach has gotten; the online aspect makes it possible for anyone, from anywhere to support the SMFA and its students and alumni.
Any information you can share with our readers regarding the "Exquisite Corpse" project? I know that a few pieces are available for purchase at the sale.
I loved this novel concept and felt that it was a great way to engage multiple artists and produce an inspired and unique piece of work. My understanding is that these works, which debut at the sale opening, have been touched by the hands of multiple artists.
What should first-time attendees to the SMFA Art Sale expect when they log on, beginning November 9?
I'm hoping they'll find works that allow them to connect to a perspective different from their own. I always encourage collectors to live with challenging works that spark their curiosity. I would always suggest acquiring a work that makes you want to ask questions, not only about the work itself, but about your own self and the world around you. We often fall into the trap of acquiring what we "like," and then feel uninspired or bored by what we've brought home…think of this process as the way you might choose a partner or a friend; you typically want to surround yourself with people who inspire and challenge you!
How do you predict the arts community will continue to utilize virtual programming in the future?
I'm hoping the virtual programming that has been created over the past six months will continue. It has been inspiring to watch ballet, theater and film from home, despite my location. With the visual arts, we'll always need to see "the real thing," but I feel much of the digital program can help contextualize and amplify the artist's voice.
The 38th annual SMFA Art Sale takes place online November 9–23, 2020. For more information and to preview the Art Sale catalog, visit smfa.tufts.edu.