Valentine's Shopping in Boston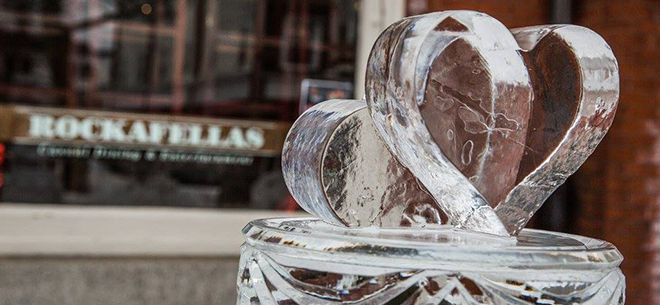 There are a few tried-and-true categories where even the most stymied Valentine's Day shopper can find success: Flowers, jewelry and sweets. The only question that remains, though, is where are some of the best spots to find some of these not-so-rare items? Boston shoppers, you're in luck. Herein lies a handful of ideas to get you started on the never-ending quest to keep your sweetheart happy on the upcoming day dedicated to love.
A recent bit of good news on the retail front leads us to our first suggestion on the flowers side of the equation. The venerable Brattle Square Florist in Harvard Square, a Cambridge mainstay since 1917 that had announced it would be closing at the end of January, has been resurrected in time to be ready for the busy bouquet season that is Valentine's Day. Another area florist that has been around for decades is Winston Flowers, which offers same-day delivery throughout Greater Boston and still maintains its original shop on Newbury Street despite growth to such locales as New York City and Greenwich, Conn.
For jewelry, Downtown Boston is an excellent option for finding a variety of sparkling baubles, including at such longtime purveyors as Long's Jewelers, Joseph Gann Jewelers, E.B. Horn and DeScenza Diamonds. The historic Jewelers Exchange Building alone houses dozens of dealers, including DePrisco Diamond Jewelers and Barmakian Jewelers. All are fine options, as are such familiar names like Chanel, Tiffany, Van Cleef & Arpels and Long's Rolex Boutique on the Back Bay's Newbury Street. Yet for those looking for something truly unique, a look online at the Boston-based Society of Arts & Crafts' website and its many makers of one-of-a-kind pendants, earrings, rings, bracelets and more might be worth the effort. For recycling enthusiasts, vintage gems are a good way to go, and the estate jewelry at Small Pleasures on Newbury Street certainly fits the bill.
Sweets are no stranger to Valentine's Day, and chocolate still remains the king. North Easton-based Hilliards Chocolates combines chocolate with flowers for its bouquet of a dozen milk or dark chocolate roses, which can be ordered online for delivery just about anywhere, along with its mouth-watering assortment of chocolate truffles. Located in Boston's Dorchester neighborhood, Phillips Chocolates has been a staple since 1925. A wide variety of turtles are the maker's specialty, and they even come grafted to a large, heart-shaped chocolate. Shipping via online or phone order is available throughout the U.S. For those that want to shop for sweets in person with their sweetie by their side, we recommend Salem's So Sweet Chocolate & Ice Sculpture Festival (pictured), which runs February 11–13 in the historic seaport north of Boston. The name of this event says it all, as this holiday happening allows visitors to peruse chocolate shops and other retailers while marveling at a slew of sparkling, frozen creations scattered throughout the downtown area.
For the latest on COVID-19-related public health mandates for the City of Boston, visit here. For the latest on Cambridge, go here. For Salem, go here.