Shop Local for the Holidays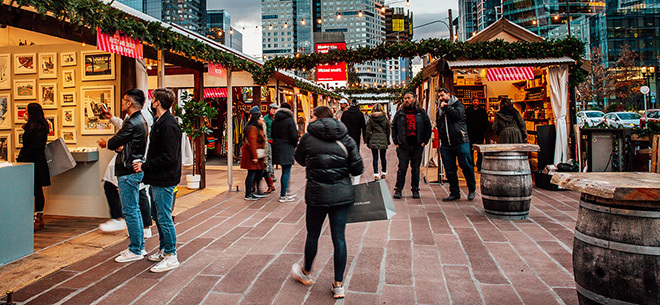 Shopping for all your loved ones this holiday season can be stressful. While we can't necessarily help you get that perfect gift for your great uncle Joe or cousin Sophie, we can at least make you feel a little bit better about where you purchase those unexpected finds by pointing you towards local merchants. Who doesn't feel good about shopping local and supporting their community? Besides, it's sure to get you on Santa's nice list.
For one-stop shopping, there are a few options out there. The Seaport District is home to The Holiday Market at Snowport (pictured), a European-style open-air market with more than 60 small business vendors. Visitors can even stick around and refuel with a festive menu from Tuscan Kitchen (craft cocktails, arancini, pizza and more are planned) and Breezy Hill Orchard (hot cider and gingerbread should hit the spot), or play outdoor iceless curling and other winter games. Over in Cambridge, one good thing that came out of the pandemic was the creation of Starlight Square in Central Square. This relatively new cultural district hosts Popportunity, a weekends-only marketplace that nurtures a diverse range of local businesses. Another great in-person shopping opportunity is in the South End when the 6th annual SoWA Winter Festival returns December 3–12. Three locations in the SoWa (South of Washington) District host 105 local art and food vendors, a beer garden, artist studios, a vintage market and more—and you can even pick up a fully lit tree, stand included! Friday through Sunday November 26–December 24, visit the Boston Public Market's Holiday CR[EAT]OR Market at Haymarket, where more than a dozen pop-up artisans add to the already vibrant scene at this indoor, year-round farmers' market. On December 4 from noon–5 p.m., the Time Out Market food hall in the Fenway hosts the Boston Women's Holiday Market, where you can browse jewelry, candles and more from independent businesswomen while enjoying live music from 1–4 p.m. For those that like to brunch while they shop, check out Bazaar Mezzana at hip Italian hot spot Bar Mezzana in the South End on December 11 from 11 a.m.–3 p.m., where patrons can peruse the wars of local artisans while enjoying brioche bread French toast and a refreshing bloody Mary. And for those that still insist on shopping online, reduce the shame and guilt by checking out CraftBoston Holiday Online through January 30 for a wide array of exquisite handmade creations, from jewelry and clothing to pottery and glassware. Although the creators come from all over, the event benefits the locally based Society of Arts and Crafts, the one of the oldest crafts organization in the country. You can even tune in online to see demonstrations and interviews so you can learn more about the makers behind all that gorgeous art.
Once you've taken care of all the people in your life, it's time to treat Fido and Whiskers to some holiday cheer. Look no further than Boston-based premium pet snacks purveyor Polka Dog, which has added a new line of holiday dog and cat treats to its all-natural offerings. What four-legged friend could resist a turkey and cranberry chewy, after all? Items can be purchased online or at one of eight good-old brick-and-mortar locations in the Boston area. Speaking of brick-and-mortar, there's also the two-story pet emporium Pawsh in the Back Bay to fulfill all your holiday squeaky toy needs. And they also do grooming, ensuring your fur babies will be soft and shiny for Santa on Christmas morning.