Shopping Local This Holiday Season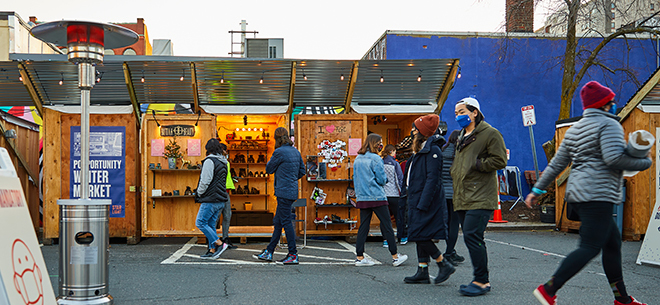 Photo: Nick Surette
As small businesses continue to face challenges due to the COVID-19 pandemic, the impulse to shop local is more relevant than ever this holiday season. With an excellent selection of pop-ups, online events, and outdoor markets in Boston and beyond, you'll find gifts for everyone while showing your support for local businesses and artists.
Shop locally made goods from female artists, designers, and makers at SoWa's Winter Pop-Up hosted by Wyllo which runs Wednesday through Sunday, 11 a.m–6 p.m. through December 20. Taking place across the street from Wyllo's main boutique in the South End at 65 Thayer St., Wyllo has curated a stylish selection of gift ideas including jewelry, art and home goods. In addition to walk-in shopping, Wyllo is offering numerous ways to participate in the pop-up, including private shopping appointments for after-store hours, and both in-store and curbside pick-up. Find locally sourced, handmade crafts and artwork at the first annual Jameson & Thompson Winter Market at 18 Bartlett Sq. in Jamaica Plain. The event showcases a different collection of vendors every Sunday through December 20 (check out their website for a list of weekly vendors). To encourage buyers to shop local, the city of Boston has announced that two-hour parking meters in commercial districts of the city is free every Saturday for the rest of 2020.
Take a hop across the Charles River to visit the Popportunity Winter Market (pictured) at Starlight Square (84 Bishop Allen Dr.) in Cambridge, Saturdays and Sundays from 11 a.m.–5 p.m. through December 20. The outdoor event features 20 tents and 15 mini-storefronts and galleries hosting an array of local retailers, artists and community members, including tents for local entrepreneurs Central Square Toy Drive, Black Matters and Filling in the Gaps Cambridge. In Nubian Square (2136 Washington St.) in Roxbury, Black Market is hosting the Black Joy Market, where visitors can shop from a curated selection of local vendors while enjoying a holiday playlist composed by Roxbury Sound System every Saturday from 1–5 p.m.through December 19. Visit the Dorchester Art Project's new storefront at 1486 Dorchester Ave. Wednesday through Saturday from noon–8 p.m. and Sunday from noon–6 p.m. throughout December. Featuring art and music supplies, vinyls, tapes/CDs and thrift apparel, the community-curated store also provides a space for local artists—with a priority on BIPOC, queer, emerging and experimental, and Dorchester artists—to sell their work. A selection inventory is also available on their online store.
Looking to shop at home while still supporting local artists and businesses? Find stunning gifts and artwork from women-founded businesses across New England at The Boston Women's Market Holiday Shop, through December 31. Virtual shoppers can find exclusive specials from BWM vendors throughout the holiday season. The fourth annual Allston-Brighton Winter Market—happening online this year through February 14, 2021—features an array of fine art, artisanal goods, unique services, one-of-a-kind commissions and handcrafted gifts from local entrepreneurs. Connect with local sellers on GK! Market, a newly launched digital marketplace for local diverse and inclusive businesses. Free and easy to use, search for Boston-area businesses by location, and by selecting from a variety of GK Market's filters, including women-owned, Black-owned, LGBTQ-owned and minority-owned businesses. The venerable Fort Point Artists Community, one of the largest organizations of its kind in New England, offers works from its members as part of its 2020 Small Works Show & Sale, which features dozens of dazzling original works in a variety of mediums.