High 5: Holiday Markets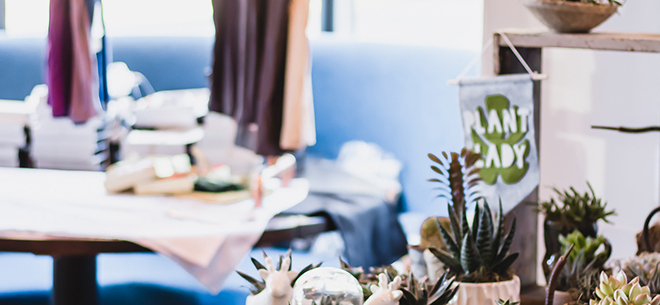 Photo: Reagan Byrne
Find unique, local gifts at these seasonal retail oases
Fenway Tree Farm: Hosted at new events space The Station, this open-air experience offers trees, wreaths and other pine-scented products to enliven your yuletide decor. While you're there, savor a sip or two of some adult beverages at The Fenway Chalet, The Wine Press' pop-up shack serving wine, beer and warm cocktails on select Friday nights and Saturday afternoons through December 17. Also check out holiday versions of Boston Women's Market (December 9 from 4–9 p.m.) and Fenway Flea (December 10 from noon–5 p.m.) at the same location.
Cambridge Arts Holiday Art Market: Head over to Harvard Square December 1–3 & 8–10 from 11 a.m.–6 p.m. where the Smith Center Arcade at venerable Harvard University houses a sale of one-of-a-kind works from local creators.
High Street Place Holiday Market: The Downtown food hall partners with Boston Women's Market for this evening of cocktails (from a Champagne vending machine, no less) and shopping on December 8 from 4–8 p.m. Support small businesses while entering a raffle giveaway, enjoying live music and searching for that perfect holiday gift.
Bazaar Mezzana (pictured): South End Italian eatery Bar Mezzana brings eager shoppers this showcase for Hub area artisans who proffer their wares on December 10 from 11 a.m.–3 p.m. Stay for a brunch filled with brioche French toast, duck confit hash and refreshing cocktails in the bar and lounge.
CraftBoston Holiday: For those that prefer to shop online, Boston's storied, 125-year-old Society of Arts and Crafts currently has its web-based holiday bazaar up and running through January 8. From home or on the go, browse for jewelry, home décor, fashion and more from top-notch artists from both near and far for all your hard-to-please friends and family.