New Year, New Hope: Cape Cod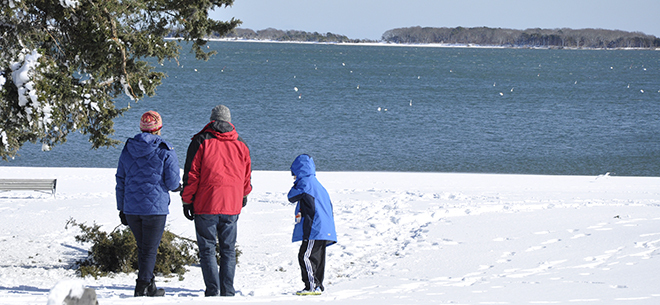 Photo: William DeSousa
Known to many as Massachusetts' summer playground, Cape Cod offers even more adventures and activities in the wintertime. Located approximately 70 miles south of Boston, the region is the perfect destination for a day trip or weekend stay. The Cape comprises 15 towns, each with their own unique charm and historic significance. The Cape Cod Chamber of Commerce's media and public relations consultant William DeSousa gave Panorama some recommendations about how to make your trip to the Cape in the New Year a memorable one.
"There are plenty of opportunities for visitors to experience the Cape in safety and style," according to DeSousa. The historic Dan'l Webster Inn & Spa, located in Sandwich, is one of the Cape's crown jewels of hospitality, operating for more than 300 years. If you're looking to lay low this winter, cozy up with a glass of wine in front of an oceanfront fire pit at the Pelham House Resort in Dennis Port. Just like the area's numerous beaches, Cape Cod offers countless culinary delights that will satisfy everyone's taste buds. While some restaurants are seasonal, many eateries on the Cape operate year-round. Local favorites like the 400 East Restaurant and Bar in East Harwich, The Pheasant in Dennis, and The Hearth 'n Kettle in Hyannis and Yarmouth offer indoor dining, takeout and curbside pickup. Food connoisseurs with a global palette will also love the Double Dragon Inn in Orleans, Anejo Mexican Bistro in Hyannis and South African cuisine at Karoo Restaurant in Eastham.
A photographer and hiking enthusiast himself, DeSousa knows there is no wrong way to explore the great outdoors on the Cape. Hikers, cyclists and beachcombers alike have their pick of more than 600 miles of conservation trails and 115 named beaches (yes, you read those numbers right). Speaking of beaches, most of the Cape's public beaches are open daily from dawn to dusk, with free parking during the winter. Stretching for miles, these pristine shorelines are the perfect place to take a stroll and collect shells. Even in the colder weather, visitors can see the occasional windsurfer filling their sails and picking up speed. Cross-country skiers and snowshoers can rejoice with a visit to Nickerson State Park in Brewster, Beebe Woods in Falmouth, and Hawksnest State Park in Harwich. Enjoy a relaxing bicycle ride on the Shining Sea Bike Path in Falmouth, or hike the Cape Cod Rail Trail, a sprawling 25.7-mile former railway track leading from South Yarmouth to Wellfleet. Nature lovers can also take advantage of the Cape's numerous wildlife sanctuaries, including Wellfleet Bay Wildlife Sanctuary in Wellfleet and Long Pasture Wildlife Sanctuary in Barnstable. On the way to their destinations, visitors can cruise Old King's Highway (Route 6A), a 62-mile former Native American footpath running from Bourne to Provincetown. The Cape Cod Chamber of Commerce is actively nominating the beautiful stretch of road to be recognized as a National Scenic Byway, a prestigious designation. For shopping and dining options, DeSousa recommends Hyannis' bustling Main Street, with over 40 shops, boutiques and restaurants. Those looking to get out from the cold and take in some culture should head to the Cape Cod Museum of Art in Dennis. The museum has reduced winter hours, with health measures in place to ensure guests have a safe visit.
When asked about what the future will bring for Cape Cod, DeSousa is optimistic: "With the progression of vaccinations nationwide, the Chamber is hopeful that the COVID-19 pandemic will subside before summer. I believe that everyone associated with the Chamber, myself included, hopes that 'business as usual' will return in late spring and remain strong as travel restrictions, both domestic and international, begin to lift." Whether it's your first time visiting Cape Cod or the millionth time, there is always something new to experience.
For the latest information about guidelines for traveling and staying safe in Massachusetts, visit https://www.mass.gov/info-details/covid-19-public-health-guidance-and-directives.