Dr. Anthony Trecek-King of Handel and Haydn Society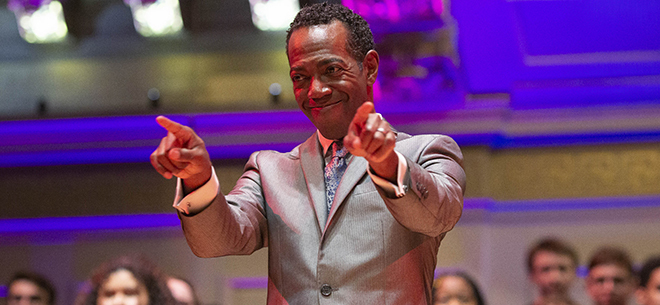 In a time when live performances are sorely missed by music lovers everywhere, it is inspiring to learn about an individual who continues to bring joy to the community through music. Such is the case with Dr. Anthony Trecek-King, who was recently appointed Resident Conductor of the Handel and Haydn Society Chorus, the oldest continually performing arts organization in the United States. Founded in 1815, the Handel and Haydn Society brings engaging, accessible and broadly inclusive music programming to over 50,000 listeners per year. Working alongside artistic director Harry Christophers, Dr. Trecek-King will help strengthen the Handel and Haydn Society Chorus through recruitment, auditions and concerts. Having gained a following through his work as a scholar, musician and media personality, Dr. Trecek-King brings a wealth of experience to his new role.
Panorama spoke with Dr. Trecek-King about his conducting style, working with Boston musicians and what the future holds for live music performances.
What are you most looking forward to in this new role with the Handel and Haydn Society? I'm just excited to be associated with such a storied organization that does phenomenal work in the world of classical music, particularly historically informed performance practice and period performance. It's an unusual organization to have such a history associated with it. And it's just exciting to be a part of that history and to kind of help them continue to do the great work that they're already doing.
What is the role of the conductor, and how would you describe your conducting style? Oh gosh, the conducting style is a good question. Sometimes people see the role of conductors as the ones that are keeping time and keeping things together. But it certainly goes beyond that. It's about creating a cohesive musical performance. The way I see it, it's a way of unifying ideas so that you can have a cohesive performance. The professional ensemble, in particular, doesn't need a conductor, and a lot of the performances for H&H are without a conductor, the concert masters will kind of do that work. And so, ensembles don't need conductors, but conductors do need ensembles, right? But when you have so many different people, it's possible to have many different ideas and a conductor is really good at calling those ideas forward like, "This is the way that we're going to move forward together." My approach is very collaborative because I think I have nice ideas, but other people might have better ideas. Hearing those ideas and incorporating them into the performances is great. That being said, as a conductor, you should have an idea of what it is that you want to get out of a particular piece of music and do the research and understand it deeply and then kind of get up there. It's kind of a strange profession because we don't actually make any sound. If I was singing or playing my instrument, then I'm actually producing sound. But as a conductor, you don't actually produce sound. We just move our arms. As a joke, I like to say that we conductors don't make music, we make wind.
What are the members of the Handel and Haydn Society Chorus looking for when they look up at you from their music during a performance? First of all, to do no harm. I don't want to cause any confusion. But it is just providing them with just enough information so that they can do their work, and that can be different depending on the situation. If it's around a specific tempo change, providing a very clear, concise gesture that conveys the tempo change, if they're able to kind of execute that in a unified way. It could be a dynamic change. So really, the music, every piece of music has a different requirement for the conductor to convey to the performers. I see myself as an aid. People aren't there to see me or hear me, they're there to hear the music. So what I do is aid the performer in that particular moment in doing their best job to perform that piece of music. It's really different depending on the music itself and what the music calls for.
You have previously helmed other Boston-area music groups, such as the Boston Children's Chorus, as well as collaborated with the Boston Modern Orchestra Project. What makes working in Boston a particularly exciting or gratifying experience? Boston is particularly rich in the arts and in music. Boston's kind of a small town, but that really has an out-sized artistic influence on the world. One of the things that I really enjoyed about moving to Boston is that you can do things, and people are there to see it, and they're there to notice it. And you can have an impact beyond the city itself, or you can also have a deep impact on the city. I'm very proud of the work that I've done previously in Boston in just trying to raise the profile of Boston and its artistic scene and playing my small part in that and working with other great organizations. Working alongside the Boston Modern Orchestra Project and Gil Rose there, that was a fantastic collaboration doing some opera projects, and working and collaborating with the Boston Pops and Boston Symphony and so on, it's been great. There's so many fantastic artistic organizations in which you can kind of cross-pollinate and collaborate with here within the city that it's really quite exciting.
When working with large organizations and orchestras, how do you encourage teamwork and collaboration? To me, that's a big one because the role of the conductor has shifted over the last century or so, where you once could be a dictator and stand up there and really dictate.…And it's not as if you're not still seen as someone who is in a leadership role, but it's more about creating a collaborative work environment in which we can all kind of move together towards a common good, and that is the music itself. I feel that people like to have a say in their own situation. So how can we invite more people to the table to have a conversation around rehearsals and auditions and things like that? I think it helps to have an open door, listen to what people are saying, and respond. It doesn't mean everybody can have what they want because that's not necessarily the case. But it's just that your voice is being heard and it's being considered as we continue to build organizations and move things forward. So that is important to me: creating this collaborative work environment so that people feel like they're a part of the experience more than just being "hired help."
How do you predict the music community and the performing arts community at large will continue to use virtual programming in the future? Virtual programming has allowed organizations to spread their reach beyond their city quite easily. I think organizations knew that this was a direction that you should be going in prior to the pandemic as value added. It's not a replacement for in-person performances, but this certainly adds to the value of the organization to a broader community. The pandemic has just forced everybody to go, "Oh, I guess we need to do this now. Now is actually probably a good time for us to start doing it." So I don't see it going away. I think virtual performances and virtual access is something that will continue to happen, and people will leverage the technology and the skills that they built up over this time to spread their reach and continue to spread their reach to augment their performances. Because a performance exists in time in that space, and then it's gone, but a virtual performance could live on for quite some time. It's a way to continue to engage with the artform that the virtual performances will continue to be around and the virtual access. And the other thing that's really been great about it is it allows you to personalize things. It allows you to get in close and see people as humans and not just performers and they have lives and they're interesting people. I think that is an awesome by-product of what it is that we're doing.