William Murrell of BlackBoston.com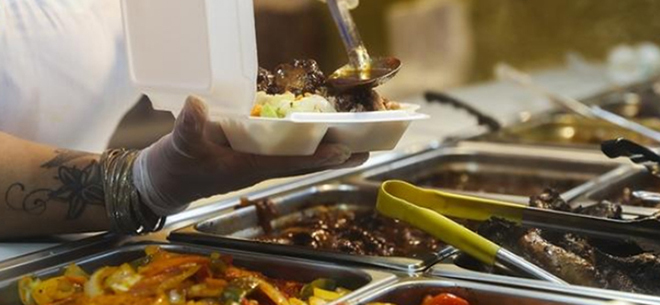 courtesy of Flames Restaurants
Dedicated Boston foodies know that the Hub's restaurant scene is the best. Flavors from all over the globe can be enjoyed with the click of a button, a phone call or a short drive or walk. Local food lovers should also know that Boston is home to 35 incredible Black-owned restaurants. Soul food and authentic cuisine from Haiti, Cape Verde, Jamaica, Ethiopia and many more reside in every Boston neighborhood. As Bostonians continues to rally around the restaurant industry and show their support for local businesses, it is important to keep Black-owned businesses at top-of-mind as well. Here to help is BlackBoston.com, an extensive online resource that aims to uplift and empower Boston's Black community. With endless listings of Black-owned restaurants, small businesses, organizations and individual creatives, the site encourages visitors to share the love and share the wealth.
Panorama spoke with William Murrell, publisher of BlackBoston.com, about the ways in which Bostonians can best support Black-owned restaurants and businesses, why it is important and where readers can find their new favorite meal.
In addition to ordering takeout and buying gift cards, how can Bostonians best support Black-owned restaurants and businesses during this time?
Put them into your consideration set—you know, the list in your mind where when you're considering a purchase to satisfy a need, there is a top-three brand list that will likely get the business. In my opinion, Boston's Black restaurants receive hundreds of thousands of dollars a year in free publicity from reviewers, the media and from the visitation to their own blogs, social media channels and Internet spots, yet some are struggling to survive. This is more free publicity than any other Black business institution receives. Is the struggle caused by the pandemic or was it there before? I personally believe that when the Boston Black Hospitality Coalition mounted a campaign asking Black people to visit Black restaurants four times a month, the campaign was ill-advised, because the vast majority of households cannot afford four times the cost of $30 entrée dinners times the number of people in their households.
What Black-owned restaurants have you been frequenting lately? Any favorite dishes to recommend?
The Flames restaurant chain [pictured] opened a new one in Randolph. I visited one Saturday evening around 6 p.m., just before a long line developed behind me. I had the Jamaican jerk chicken with rice and vegetables. I added a carrot cake and ginger beer. It was a $14 fantastic dinner.
Why is it important to eat and shop local Black-owned businesses?
Black-owned businesses are often a secondary source of income. For some, it is their primary source, so it's important to support Black-owned businesses as often as you can. Black people need wealth-building opportunities, more so than they have ever had because the public school system is failing the kids, and a great K–12 education costs big dollars. So, for Black and minority families with kids enrolled in Boston Public Schools, you need an intervention. You need to get 50 times the quality and quantity of education the BPS can deliver to most. Also, frontline workers and other skilled professionals and laborers may be facing job insecurities.
What is one food that everyone should try at least once in their life?
If you are not allergic to them, try sweet potatoes baked with nothing added. Add your favorite protein, fruit and vegetable on the side.
Where can people go to learn more about Black-owned businesses and restaurants in their area?
Google and BlackBoston.com. BlackBoston.com has highlighted Black-owned restaurants with booster messages about what foodie reviewers and others may have said about them. We use a live person to tell people where they are. One day, a person called seeking a Black restaurant to take a graduation party of 15. We gave them the name and they went there. It was a good earnings day for that restaurant.
Visit BlackBoston.com for more information and a complete list of Black-owned businesses, restaurants, and organizations to support.