Boston Accent: Pond Life
A new book featuring the work of local photographer S.B. Walker celebrates the legacy of Thoreau's Walden on the bicentennial of the naturalist/philosopher's birth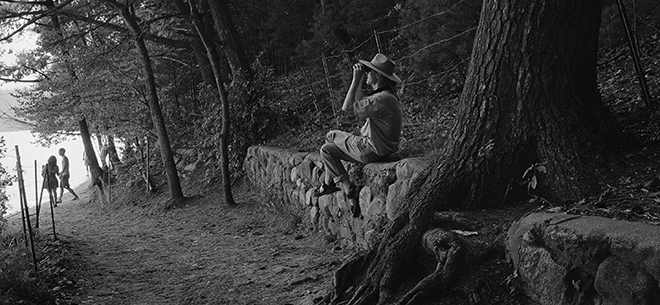 Photo: S.B. Walker, Mike, birdwatching, July 2011 (detail)
Summer is the perfect season for a day trip. Many Bostonians (and nature-loving visitors) make the 30-minute drive to Walden Pond State Reservation in Concord to swim, fish, go boating or hike down the wooded trails surrounding the water. If the name "Walden" is familiar to you, it's because this glacial kettle-hole pond is considered the birthplace of the American environmental movement. New England essayist Henry David Thoreau wrote his most famous book, Walden, about his time spent living in a tiny cabin by the water's edge in the 1840s. This year is the bicentennial of Thoreau's birth, making it a great time to visit Walden Pond. Visitors can learn more about Thoreau at a replica cabin on site—or head straight to the pond itself and jump into the cool water.
While the site is sacred to nature-lovers, local artist S.B. Walker realizes that the modern reality is removed from what many people expect after reading Thoreau's book. "Growing up around there, I always knew it as a local beach," he explained. "It's a wilderness that isn't wild at all!" While working in the archives at the Walden Woods Project—a Lincoln, Mass.-based organization that promotes conservation—Walker noticed that most historical photographs of the area did not include people. "It didn't sync with my own vision of the place. I felt I needed to do a new take on it."
So, in 2010, Walker began taking photographs that he felt expressed the "real" Walden. Walker focused his lens on birdwatchers, swimmers and commuter rail trains zooming by: Walden Pond the way it is experienced by countless visitors every summer. Like Thoreau, Walker has compiled his work into a book—also titled Walden—that was published in May (Kehrer Verlag, $40).
Even if it seems that Walker is intent on debunking the myth of a wild and untouched Walden Pond, he explains that his intense interest in the subject comes from a love of Thoreau's writings on nature. "Thoreau was ahead of his time," Walker says. "Many of his ideas are still relevant today." He hopes that his book will inspire people who visit Walden Pond to learn more about Thoreau and conservation—and to celebrate the bicentennial.
Walden Book Signing
July 15 at 7:30 p.m. at The Thoreau Society Annual Gathering & Bicentennial Celebration of Thoreau's Life, Works and Legacy, 341 Virginia Road, Concord, 978-369-5310, thoreausociety.org