A Peek at the Past: Boston Celtics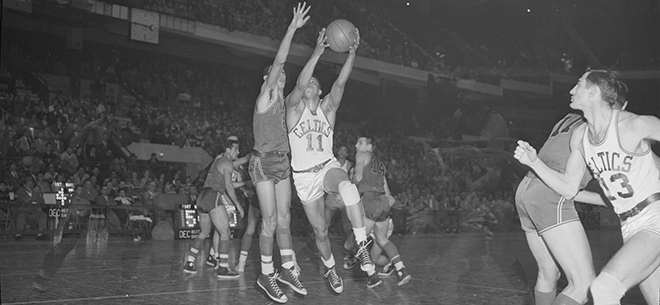 Photo: Courtesy of the Boston Public Library, Leslie Jones Collection
Over the course of its seven-plus decade history, the Boston Celtics have become synonymous with success in the National Basketball Association (NBA). Established in 1946 as a founding member of what would eventually become the NBA and named in honor of the city's sizeable Irish-American population, the team wasn't an immediate winner.
Founded by owner Walter A. Brown as a charter member of the fledgling Basketball Association of America (BAA), the Celtics eventually became part of the NBA as a result of a merger between the BAA and the rival National Basketball League in 1949. In those days, the team's primary claims-to-fame were that, in 1950, it was the first to draft an African American player (Chuck Cooper, pictured above middle) and had two-sport-athlete-turned-actor Chuck Connors ("The Rifleman," anyone?) on the roster in 1946–1947.
The team's fortunes didn't really turn around until Brown hired Arnold Jacob "Red" Auerbach as the Celtics' coach in 1950. The team improved, with star point guard Bob Cousy leading the way, yet it took until 1956 for the Celtics' legend to be solidified. That year, Auerbach drafted University of San Francisco center Bill Russell, who led the team to its first title in 1957. Russell retired in 1969 with a total of 11 championships in 13 seasons, including a record eight NBA championships in a row.
Success, if not dominance, continued in the 1970s with two more titles, yet it wasn't until the arrival of Larry Bird, Kevin McHale and Robert Parish in the 1980s—which led to three NBA titles for the "Big Three," leaders of the 1986 championship squad that is considered one of the greatest teams in NBA history—that the Celtics once again became one of the hottest teams in basketball.
Once the "Big Three" era was over, however, an extensive drought overtook the franchise, which didn't win another championship until former player and current President of Basketball Operations Danny Ainge united the new "Big Three" of Paul Pierce, Kevin Garnett and Ray Allen that secured the 2008 title, the team's record 17th. Today, a stellar start to the 2017–2018 season, including a 16-game winning streak, has once again put the Celtics in the NBA spotlight.