A Peek at the Past: Evacuation Day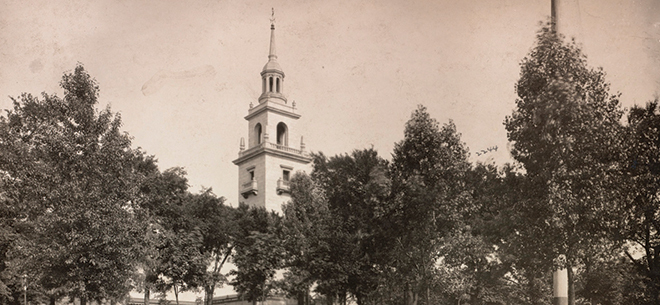 Photo: Courtesy of Boston Public Library
Visitors to the Boston area around the middle of March might find themselves asking a simple question to which even natives might struggle to find an answer: What is Evacuation Day? For modern-day Bostonians, it is a municipal holiday celebrated every March 17—or, due to the fact that the 17th falls on a Saturday this year, on March 16—in Suffolk County, which is comprised of Boston, Chelsea, Winthrop and Revere. For the significance of the actual reason this holiday has been recognized since 1901, one has to go all the way back to the American Revolution.
The Siege of Boston began not long after the first shots of the American Revolution were fired at Lexington and Concord on April 19, 1775. The British retreated to Boston, and later defeated the rebels that June in Charlestown at the Battle of Bunker Hill, but at great cost. George Washington, who had been appointed to command the newly formed Continental Army, arrived in July and set up his headquarters to the north of Boston in Cambridge with the goal of driving the British from the area. Without more artillery, however, the siege devolved into nothing more than an extended stalemate. Over the winter, local bookseller Henry Knox was sent by Washington to execute an elaborate plan to bring 59 heavy guns to Boston that had been captured by Ethan Allen and his Green Mountain Boys following a successful assault on Fort Ticonderoga in upstate New York.
This arduous, 300-mile journey proved successful. Washington distracted the British by shelling them with some of the guns while his men secretly fortified Dorchester Heights, a strategic location overlooking Boston Harbor. Once General William Howe, the leader of the British army in Boston, saw the cannon array pointed at his ships, he made plans to retreat, which he did a few days later on March 17, 1776. This was a great boost to the rebel cause, and is considered the first major victory of the revolution.
More than a hundred years later, the sizeable Irish population of Boston helped push the idea of a city holiday to honor the occasion (it certainly didn't hurt that March 17 is also St. Patrick's Day). Evacuation Day was finally officially celebrated on its 125th anniversary. The Dorchester Heights Monument (pictured), which also commemorates the American victory, was completed a year later.