Boston Accent: Back in Boston
Belly frontwoman Tanya Donelly discusses the group's first new album in 23 years and returning to town to play Boston Calling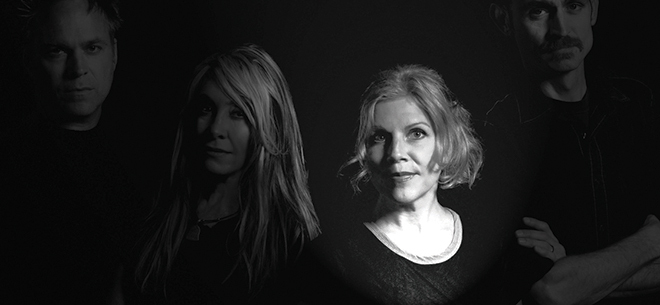 Tanya Donelly's life-long love of making music began in her teens when she started playing the guitar and writing songs with her sister. A meteoric rise—Donelly was signed to a label at 17—saw her co-founding or playing in multiple bands, including Belly, part of Boston's music scene in the 1990s. From appearing with Belly on the cover of Rolling Stone, to opening for the Velvet Underground or meeting Johnny Cash, Donelly's career has been full of "surreal moments." Yet for her, "the real highlights have been musical and behind-the-scenes—moments that are focused on songwriting success."
Donelly is currently celebrating the release of Belly's new album, Dove—its first in 23 years. "We had great feedback from our fans [on a recent reunion tour]. It inspired us to take the handful of songs we had written for the tour…and expand on that to write a whole album." Donelly is still pondering the message at the core of Dove. The songs range from the political to the personal. "It's about connections rather than divisions…and a hope that needs to be fought for," she muses, adding, "It's an album that's full of relationships, too."
Fans have a chance to hear some of this new material live as Belly kicks off a new tour at the Hub's highly anticipated music festival, Boston Calling (May 25–27). "For me Boston Calling is like a backyard gig," Donelly laughs. "I've attended with my kids the past few years.…I've always loved the lineups. It's incredibly well run, really fun, and the way that they tier the stages is really smart." In addition to performing, Donelly is looking forward to being an audience member, and hopes to see St. Vincent, Pussy Riot and Royal Blood, among others.
Yet for Belly's fans at Boston Calling, the highlight is sure to be hearing the band perform in Boston again, and to hear the new material of which Donelly is so proud. "From my solo career, I have discovered that I am a collaborator. My best work is done as an artist writing with other people…and that led to my being really open to a reunion with Belly. For this album, we all came to the table with strong musical ideas. Everyone had been writing.…It's been extremely fun and very bonding."
Boston Calling
May 25-27 at the Harvard Athletic Complex, 65 N. Harvard St., Allston, bostoncalling.com. $105–599.