Ringing in 2022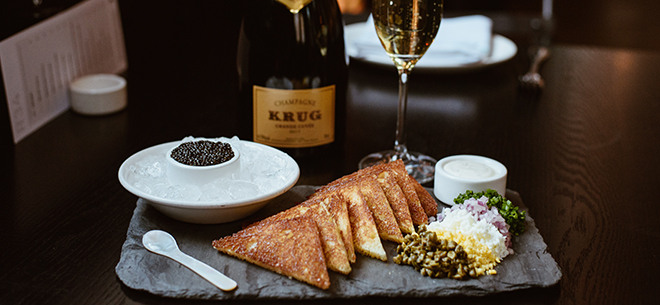 Photo: Emily Hagen
Perhaps 2021 wasn't quite the turnaround year we all expected. And perhaps you're really, really, really looking forward to 2022. If you fall into that category, then you're in luck! The new year is just around the corner, so let us offer this handy guide to some of the best ways to say goodbye to the old and ring in the new on December 31.
Boston's longstanding tradition of welcoming the new year with its First Night festivities thankfully remains intact. This celebration centered around Boston Common, Boston Harbor and the Back Bay is chock full of family-friendly music, dance, magic and puppetry performances both indoors and out. It all starts at noon, ending ultimately with a Copley Square countdown followed by spectacular pyrotechnics over Boston Harbor. Don't forget the triumphant return of the grand people's parade down Boylston Street from Copley Square to Boston Common beginning at 6 p.m. followed by the City of Boston's Family Fireworks display over the Common at 7 p.m. And be on the lookout for dazzling ice sculptures in Copley Square and around the Boston Public Library following the theme "Wonders of the Frozen Ocean."
Don't fret, grown-ups—there are plenty of New Year's Eve soirees catering to the adult crowd. Restaurants hosting parties and offering special menus include Fort Point seafood destination Row 34 (pictured), which presents Krug champagne and Ossetra caviar to its patrons; East Boston's Cunard Tavern, which should have a perfect view of the midnight fireworks from its roof deck overlooking the water; another harborside gem, Woods Hill Pier 4, which boasts great farm-to-table cuisine and sweeping water views for the pyrotechnics, along with unique outdoor igloo enclosures and caviar service; seafood fave Jasper White's Summer Shack, which hosts a family-friendly affair at its Cambridge outpost and a lobster-focused prix fixe repast in the Back Bay; night spot/Greek eatery Committee in the Seaport, a haven for those looking for both Mediterranean-inspired dishes and hot new cocktails to accompany bumping tunes to toast 2022, courtesy of DJ Ryan Brown; Bambara Kitchen & Bar at Cambridge's Kimpton Marlowe Hotel, which showcases special menu items along with live music from singer-songwriter Ryan LaPerle; The Ritz-Carlton, Boston's Avery Bar, which features live music from the David Thorne Scott Jazz Trio and themed cocktails featuring lots of bubbly; and Japanese specialist Zuma at the Four Seasons One Dalton, which highlights two chef-selected omakase offerings to make any sushi-lover's head spin.
For those not honed in on any one particular cuisine for their last meal of the year, Time Out Market in the Fenway is always a good spot to sample a wide variety of food from all over the world. It's also the site of the Winter Wonderland New Year's Eve Party, a ticketed bash that gives attendees a $60 card for use at any of the food hall's vendors in addition to offering live music, performances from Cirque de Light, a roaming magician, tarot readings, a caricature artist, a photo booth and, naturally, a glass of champagne for the customary midnight toast. Another opportunity to celebrate like it's the new Roaring '20s is the Masquerade Ball New Year's Eve Party at the taproom of the highly lauded Night Shift Brewing in Everett, a perfect location for craft beer lovers and those that want to shake off 2021 with live music and savory food creations from Brighton's Brato Brewhouse & Kitchen.
For a more music-oriented New Year's, Boston Baroque's annual concert celebrations at 3 and 8 p.m. give classical music aficionados the chance to revel in the work of Mozart and more at the GBH Calderwood Studio. There are even encores the next day at 1 and 4 p.m. For a change of pace, legendary music venue Paradise Rock Club boasts an appearance by the locally based country music favorites Dalton & the Sheriffs, while Scullers Jazz Club rings in 2022 with the smooth sounds of saxophonist Elan Trotman and his band.
And, finally, do what we'd all like to do and laugh away a questionable year at Nick's Comedy Stop in the Theatre District, where Boston-bred comedian Dan Boulger performs, or head over to the Seaport's Laugh Boston for one of two shows by award-winning writer/stand-up Kyle Dunnigan. The North End's always-unpredictable Improv Asylum is back in action as well, with Main Stage shows at 5, 7:30 and 10 p.m. to help start off 2022 on a hilarious note.