High 5: Drive-In Movies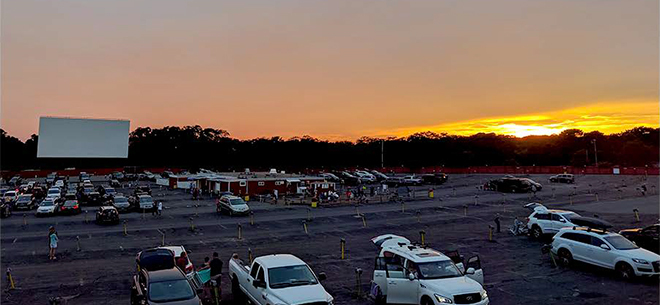 Enjoy films in the great outdoors as this throwback community experience endures in 2021
Topsfield Drive-In: The historic Topsfield Fairgrounds once again double as an outdoor theater, screening first-run flicks like In the Heights and Peter Rabbit 2. F9: The Fast Saga begins June 24.
Marshfield Drive-In: The same folks operating Topsfield have a similar set-up on the South Shore at the site of the Marshfield Fair, showing In the Heights and, starting June 24, F9: The Fast Saga. On June 18, enjoy a '90s Boy Band Laser Light Show in conjunction with the 1995 film Clueless.
Wellfleet Drive-In Theatre (pictured): This open-air destination has been delighting families on Cape Cod since its debut in 1957. In the Heights, naturally, is on the agenda for June 16, the day after a special presentation of Give or Take courtesy of the Provincetown Film Festival. On June 17, the cinema goes old-school when it projects Fargo on the big screen.
Mendon Twin Drive-In: This mainstay, which also goes back to the 1950s heyday of drive-in theaters, still offers plenty of fun for both kids and adults. Speaking of which, don't miss Pop's Beer Garden, a 5,000-square-foot patio space—complete with fire pits—that pours six draft brews along with wine. Current film offerings include (guess what?) F9, which debuts June 24.
Xfinity Family Movie Night at Kowloon: As the weather heats up, Saugus' landmark Route 1 restaurant has expanded its outdoor dining area, and continues to provide entertainment as well. Along with live music, Kowloon also presents its occasional Sunday movie series, which kicked off recently with a free screening of the classic Ferris Bueller's Day Off.