Boston Accent: Music Man
Bryan Ashley, organist at The First Church of Christ, Scientist, masters one of the world's most massive musical instruments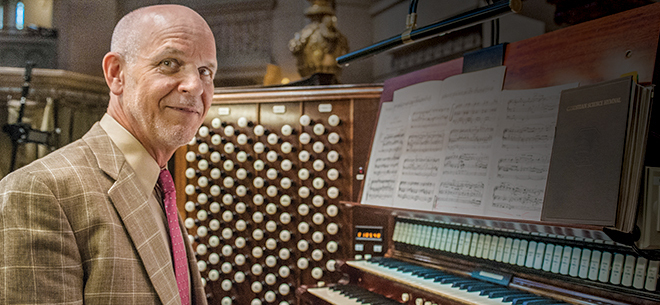 Photo: © The First Church of Christ, Scientist
Even simple pipe organs are large instruments, yet some are so massive they defy belief. One of the largest pipe organs in the world lives at The First Church of Christ, Scientist, known as The Mother Church, right here in Boston. The organ was completed for the Christian Science church's domed extension building in 1952 by the Boston-based Aeolian-Skinner Organ Company—the same team that created a similar organ for the Mormon Tabernacle in Salt Lake City, Utah. This modern marvel is designed to play centuries' worth of music, with 13,384 pipes that emit sounds ranging from a sweet whistle to a rumbling boom.
No matter an organ's size, only one person sits at its console—the control center that features rows of manuals (keyboards) and stops (knobs activating air-flow to the pipes). At The Mother Church, this accomplished musician is Bryan Ashley.
Ashley's love for these instruments began in childhood. His mother was an amateur organist, and he recalls being "completely fascinated by this intense, powerful and almost intimidating sound." Ashley's journey to master the pipe organ took him all over the world, from practicing in churches near his childhood home in New Jersey, to studying in France with the famous teacher Marie-Claire Alain, to spending time perfecting his skills in Germany, and finally winning the first International Organ Competition Musashino-Tokyo in Japan in 1988. Ten years ago, Ashley was hired by The First Church of Christ, Scientist to play at services on Sunday and Wednesday, in addition to producing the church's regular "Pipes on the Plaza" concerts.
Music is a key feature of services at The Mother Church—and all services are open to the public. "I typically choose pieces that will reflect the Bible lesson being heard that Sunday," Ashley explains. "People come in from the hustle and bustle of their daily lives—the Prelude helps them settle into a more prayerful mood.…The organ is also designed to support the singing of a large congregation, perhaps its most important role in our church.…Finally, the Postlude at the end is usually energetic, inspiring and joyful, but still with some relation to the day's scriptural lesson.
"Music is, in some ways, the most spiritual of the arts," Ashley continues. "It can express emotions and concepts that aren't easily told through words." And every week, he does just that, on this amazing instrument.