10 Top Ways to Explore Irish Boston
Experience the Hub's Hibernian heritage at these museums, restaurants, events and attractions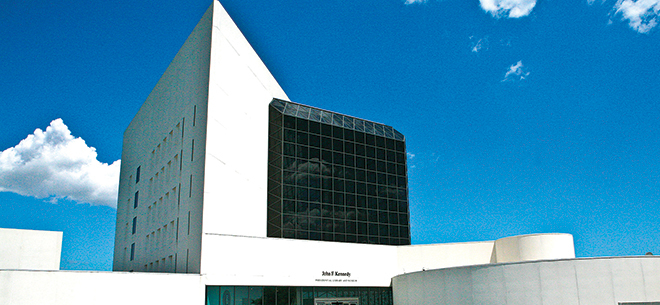 Photo: Mass. Office of Travel & Tourism
John F. Kennedy Presidential Library and Museum
Trace the journey of the 20th century's most famous Irish-American from childhood to the White House at this facility that reveals the ever-resonating impact of JFK's life and legacy. In honor of St. Patrick's Day, the museum welcomes The Greene-O'Leary School of Irish Dancers on March 9 at 10:30 a.m.
Columbia Point, Dorchester, 866-535-1960, jfklibrary.org
Dropkick Murphys
The Hub's favorite Celtic punk band returns to the House of Blues March 14–17 for its annual St. Patrick's Day shows. DKM also hosts a boxing showcase March 16 accompanied by a special acoustic set.
15 Lansdowne St., 888-693-BLUE, houseofblues.com/boston
The Kinsale
Fabulous Irish-inspired cuisine, live bands, trivia and karaoke nights, and a great selection of local and international brews make this downtown destination a favorite Hibernian haunt.
2 Center Plaza, Cambridge St., 617-742-5577, classicirish.com
Boston Irish Heritage Trail
Visit a slew of Irish-themed sites—from the JFK statue at the State House to the Irish-designed Fenway Park—on this three-mile self-guided tour.
617-696-9280, irishheritagetrail.com
South Boston St. Patrick's Day Parade
Honoring both the neighborhood's Irish roots and the city holiday Evacuation Day, this lively procession that takes place March 17 beginning at 1 p.m. has been drawing raucous crowds for more than a century.
844-478-7287, southbostonparade.org
The Burren
This Davis Square hangout regularly features traditional Irish music in its cozy front room and a diverse array of live music in its larger back room.
247 Elm Street, Somerville, 617-776-6896, burren.com
The Plough and Stars
Live music, delicious cuisine and a convivial atmosphere have been hallmarks of this authentic Irish pub since 1969.
912 Massachusetts Ave., Cambridge, 617-576-0032, ploughandstars.com
The Asgard
A modern Irish vibe suffuses this tavern that was designed in Ireland and features communal tables perfect for making new friends.
350 Massachusetts Ave., Cambridge, 617-577-9100, classicirish.com
Edward M. Kennedy Institute for the United States Senate
Another famed Irish-American scion of Boston, JFK's brother and longtime U.S. Senator from Massachusetts Ted Kennedy, has this waterfront edifice—which features replicas of the U.S. Senate chamber and Kennedy's Senate office—named in his honor.
Columbia Point, Dorchester, 617-740-7000, emkinstitute.org
Irish Cultural Centre of New England
With set dancing classes every Monday and St. Patrick's Day celebrations March 15–17 featuring an art exhibit, food, music, dance, kids' activities and more, this is a prime locale to absorb the area's Irish character.
200 New Boston Drive, Canton, 781-821-8291, irishculture.org