Boston Accent: World View
Boston Jewish Film Festival Artistic Director Ariana Cohen-Halberstam highlights the broad scope of the 31st annual celebration of film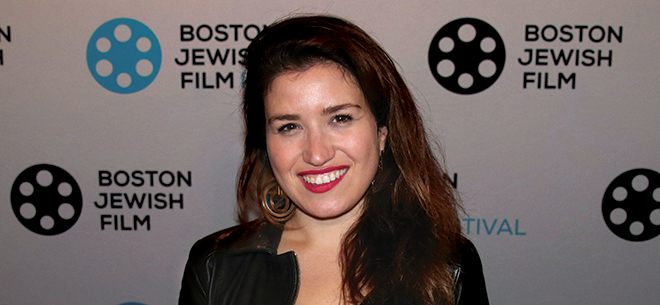 Ariana Cohen-Halberstam moved to Boston from New York City when she was appointed artistic director of Boston Jewish Film. She admits, "I knew when I was coming here that I would be joining a dedicated team, working on one of the best-regarded Jewish film festivals in the world. What I didn't yet know was that there is such a rich tapestry of film festivals, filmgoers, film lovers and art house cinemas here in Boston." In this "film-rich city where the language and the power of cinema is understood," Cohen-Halberstam found the freedom to experiment with provocative films and innovative programming.
Currently in its 31st year, the Boston Jewish Film Festival (November 6–17) brings together a great range of films about Jewish life and culture alongside director Q&As and panels, "creating community through art and film and creating space for expansive and in-depth conversations." Starting in February, Cohen-Halberstam begins to prepare for the festival by travelling to international film festivals, screening festival submissions and watching as many as 600 films in a year. "With only 55 slots, it means making a lot of really tough decisions, but ultimately we are looking for films that tell interesting stories in new and creative ways, that can add something to our understanding of how to relate to the world," Cohen-Halberstam says.
This year's lineup highlights the scope of genres that fall within the category of Jewish film: dramas, documentaries, coming-of-age stories, dystopic thrillers, rom-coms and, of course, comedies, since, as Cohen-Halberstam quips, "what good would a Jewish film festival be without some good Jewish jokes?" Cohen-Halberstam is hesitant to pick a favorite film from this year's fest, as what she values most is the diversity of perspectives and narratives. Many of the chosen movies portray multifaceted and layered intersections of identity; this year, the festival focuses on environmental justice in its "Eye on the Environment" section, and a number of movies tell the stories of remarkable individuals fighting for human rights all over the world.
Cohen-Halberstam says, "While the festival remains a destination to see some of the best movies of the year—in all genres, on a range of topics—it is also a place where audiences come to explore their identities and to hear unique and varied perspectives on the issues concerning us all."
Boston Jewish Film Festival
November 6–17 at various locations throughout the Boston area, bostonjfilm.org