Four Decades of Madness
An interview with Shear Madness director and co-producer Bruce Jordan, co-producer Marilyn Abrams and actors Patrick Shea, Joe Ruscio, Chandra Pieragostini and Celeste Oliva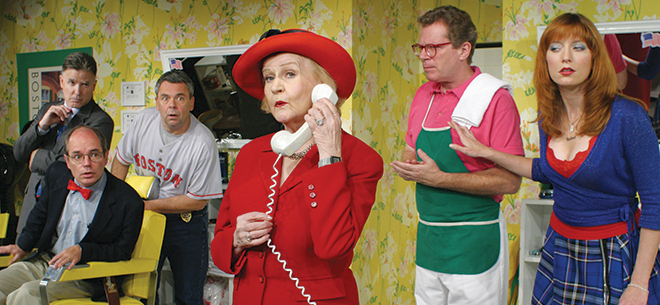 Shear Madness, the iconic murder mystery set in a Newbury Street hair salon, celebrates its 40th anniversary in January, making it the longest-running American non-musical play in history.
Shear Madness actually has roots in Boston dating back to its earliest days; in 1978, co-producers Marilyn Abrams and Bruce Jordan encountered a very serious German play called Scherenschnitt, which has the same format as Shear Madness, "but with none of the laughs," jokes Jordan. He and Abrams adapted the play into a whodunit-style comedy, which they tested out during a six-week run at the dinner theater they worked at in Lake George, New York. Each week, a bus would bring a group of tourists from Boston, and after seeing the production they would always ask, "When are you bringing Shear Madness to Boston?"—perhaps due to our city's characterizing seriousness and need for a good laugh. On days between performances at the dinner theater, Abrams and Jordan came to visit Boston. The Charles Playhouse Stage 2, where Shear Madness has played for four decades now, was actually the first theater they viewed.
"People always say, did you ever think that this was going to last this long? We didn't think it was going to last six weeks in Boston and then we might go Off-Broadway," says Jordan. "This was a try out for us." Abrams shot back, "Well it is a try out! We're still testing it out."
That's the beauty, and the humor, in Shear Madness: Each night the cast offers something brand new. No two performances are the same. The show—which has also been produced across the country from Chicago to Washington, D.C.—is set in the present day in the city in which it's playing. The jokes are often area-specific and based on current events from that day's headlines. Actor Chandra Pieragostini says, "When we go backstage before the show, we say, 'This thing happened today, do you think that other people will know about it yet?' and if they do, we go back and forth and craft a joke together and figure out how to get it in the show that night." The cast even has a memorial to "dead" jokes, nicknamed Davy Jones' Locker, where they track the date jokes first appeared and the night they're last uttered.
Shear Madness is also kept fresh because of the audience, says cast member Joe Ruscio. "The different groups we have really affect the show. The audience is like your other scene partner." Every crowd gives the actors unique material to work with: school groups respond differently than colleagues at corporate gatherings, summer campers differently than bachelorette parties. The play truly transcends age and demographic. Fellow castmate Celeste Oliva agrees. "No matter what company I'm keeping, I can always invite them to this show."
The longtime actors of Shear Madness each cite a different reason they love being a part of the show, yet all agree the improvisational elements keep it forever fresh. When a play has been running for 40 years, something has to keep people coming back, including the actors. Patrick Shea, the fan-favorite actor who played character Tony for 30 years, heartwarmingly remarks, "We get the opportunity, for several years, to try to get it right every single night."
To purchase tickets and read more about Shear Madness' 40th anniversary, visit shearmadness.com.