Boston Accent: Man on a Mission
Brother Sebastian sells his hand-crafted leather goods every Sunday at St. Anthony Shrine near Downtown Crossing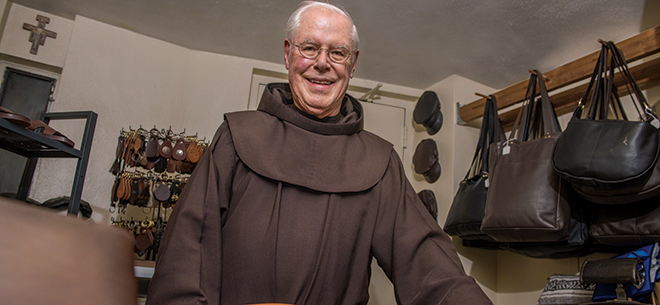 Photo: Derek Kouyoumjian
Brother Sebastian joined the Franciscan Friars of Holy Name Province at a young age, following in the legacy of two uncles who were in the same order before him. Originally from Pittsfield, Mass., Brother Sebastian was previously based in New York and Silver Springs, Md. before coming to St. Anthony Shrine here in Boston.
The Shrine, originally housed in the opposite building across Arch Street from where it now stands, is watched over by St. Francis and St. Anthony, whose undying dedication to the poor still guides every step of the Shrine's mission today. St. Anthony Shrine is a beacon for those in need, the homeless and the grieving, offering services that include counseling groups for parents mourning the loss of a child, a recovery center, a homeless women's health clinic, a food bank and more.
Brother Sebastian began leatherworking in 1972, when he learned how to make shoes by taking apart a sandal and examining its components. The apostolate of leatherworking has ties to the mission of the Franciscan friars: traditionally, friars wore sandals because that's the footwear of the poor. Brother Sebastian later went to a school for shoe repair and orthopedic work. In time, he began making bags and wallets in addition to shoes, as his fellow brothers wanted to gift his leather goods to their mothers and fathers.
Today, his selections range from sandals to hats, bags, wallets, belts and key chains, all of which are available for purchase at the Shrine between 9 a.m. and 1 p.m. on Sundays. Brother Sebastian ensures his wares are priced reasonably low, as to not provide barriers of access for those who want a quality product yet cannot afford other leather goods.
Brother Sebastian's studio spills over with his tools of the trade: near-ceiling-high stacks of all-American leather; dozens of shoe lasts, or forms, ranging in size and style; buckles bearing the signature "T" that St. Francis used to sign his name; and special stamps with religious imagery that can be pressed into wet leather to create designs.
The friar's devotion, passion and sense of purpose are clear when he speaks about his work. With a good sense of humor and evident devotion to God, Brother Sebastian frequently talks about how a regular religious routine and leatherworking projects carry him through the day. "You can't sit around waiting," he jokes.
Brother Sebastian is a kind and creative soul with a dedication to accessibility for all: to quality leather goods, yes, but also to faith, food and a safe space to simply be in the city of Boston.