Mass. Museums Roundup, COVID-19 Edition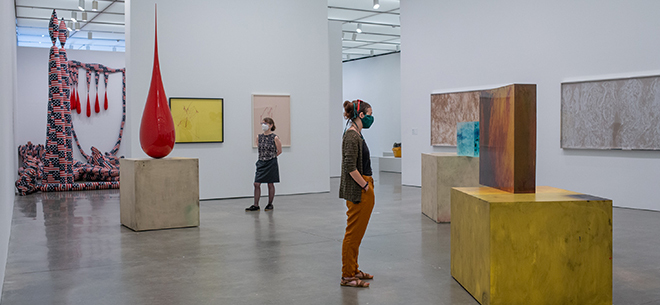 courtesy of Institute of Contemporary Art/Boston; photo: Mel Taing
With the Commonwealth of Massachusetts' Phase 3 re-opening plan currently underway, many museums in the Boston area and beyond have already swung their doors wide to the public. Some of the more prominent institutions in this category include the Institute of Contemporary Art (pictured), which re-opened on July 16 to patrons who buy advance, timed tickets, which has become the standard for many attractions. The ICA's exhibits that were up when the COVID-19-related closure went into effect are still on display and have been extended into the fall. In addition, ICA members can invite a friend to attend for free through September 7. The New England Aquarium welcomed fans that same day, and continues to operate through a similar timed-ticketing strategy, while further ensuring safety through a one-way flow for guests. Another family favorite, the Boston Children's Museum, re-debuted on July 22, and remains open Wednesday–Sunday with limited capacity and only by advance ticket holders in two time slots: 10 a.m.–12:30 p.m. and 2–4:30 p.m. On July 18, the venerable Peabody Essex Museum in Salem welcomed guests. An exhibit on the infamous Salem Witch Trials is scheduled to open September 26. On that date, Boston's Museum of Fine Arts plans to open, starting with the Art of the Americas galleries and two special exhibitions. Other displays that had been schedules for the spring, like the new Monet exhibit, will open later in the fall.
Further afield, such renowned destinations as the Norman Rockwell Museum in Sturbridge, the Museum of Russian Icons in Clinton, the Eric Carle Museum of Picture Book Art in Amherst, Plimoth Plantation in Plymouth and the Rockport Art Association & Museum on Cape Ann are also open for business. Keep in mind that all of the above require masks be worn by all visitors and capacities are limited.
Of course, virtual programming abounds for those facilities that aren't yet prepared to welcome the general public in person. Over in Cambridge (or at home on your favorite mobile device, as the case may be), enjoy the Harvard Art Museums' Harvard Art Museums from Home programming, which is updated weekly with articles and video conversations about its current exhibits. The Harvard Museums of Science & Culture—which include the popular Harvard Museum of Natural History and the pioneering Peabody Museum of Archaeology and Ethnology—offer a multitude of fascinating online resources, including podcasts and virtual science classes for youngsters that are selling out left and right.
The Bay State's world-class institutions are certainly finding creative ways to once again engage and educate their communities, so even if you're on your couch or at the beach, there's still plenty of opportunities to participate in the region's rich cultural scene.