High 5: Holiday Markets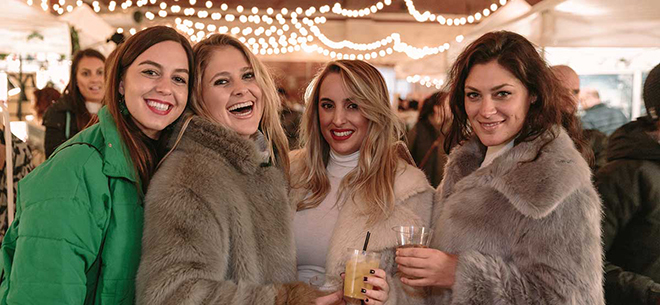 Take advantage of these seasonal showplaces to fulfill your Yuletide gift-giving needs
The Holiday Market at Snowport: Head to the Seaport November 10–December 31 and be on the lookout for wares ranging from gourmet goodies and home décor to toys, games and novelty items courtesy of a diverse array of 120+ local artisans. Shoppers can also pick up a Christmas tree and enjoy festive decorations while sipping on adult beverages from the cocktail bar sponsored by Tuscan Kitchen.
Holiday Shopping Market at Boston Public Market: On weekends from Thanksgiving to Christmas, experience a variety of special pop-up vendors selling everything from jewelry and pottery to art and household items, all supplementing the indoor farmers market's usual assortment of fine food and beverage purveyors.
SoWa Winter Festival (pictured): The SoWa Power Station in the South End hosts this eighth annual celebration of the season Thursday–Sunday from November 24–December 17. In addition to tchotchkes from more than 100 local artisans, this extravaganza features food vendors, a bar and beer garden for the adults, as well as hot beverage stations for the young and young-at-heart—not to mention live, festive entertainment on the second floor mezzanine.
Cultural Survival Bazaar: Taking place at the Belvidere Arcade of the Back Bay's Prudential Center from December 14–17, this event organized by the Indigenous Peoples' rights organization Cultural Survival presents a sale of hand-made contemporary crafts, artwork, clothing, jewelry, home goods and accessories from dozens of countries worldwide. Interact with the makers on hand while listening to live music, storytelling and craft-making demonstrations.
Harvard Square Holiday Fair: Shop in the heart of Cambridge at One Brattle Square December 15–17 (when a special Passport to Black-Owned Businesses Holiday Pop-Up takes place) and December 21–23 from a curated mix of craftspeople and importers who offer a fine selection of beautiful, unique and affordable items sure to satisfy everyone on your list.