High 5: Free Events
Summer is prime time for marquee, no-cost outdoor entertainment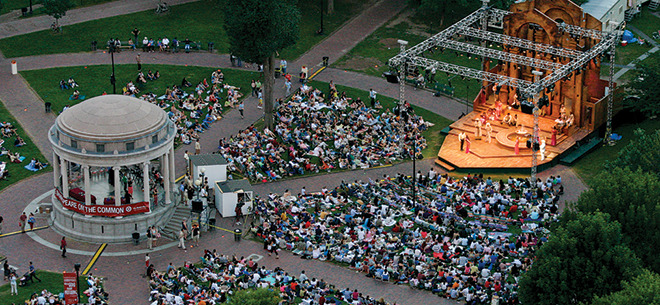 Photo: T. Charles Erickson
Romeo & Juliet: Free Shakespeare on the Common, Commonwealth Shakespeare Company's annual production of one of the Bard's classic works, features the timeless tale of the tragic young couple in a lovely setting by Boston Common's Parkman Bandstand beginning July 19.
Boston Landmarks Orchestra: Every Wednesday night at 7 p.m. at the DCR Hatch Shell on the Charles River Esplanade, enjoy free classical music by the water. The season's opening night on July 19 presents work by Samuel Barber, Giuseppe Verdi and more, while July 26 boasts German masterpieces by Wagner and Strauss.
Concerts in the Courtyard: The courtyard of the McKim building at the historic Copley Square branch of the venerable Boston Public Library hosts free musical performances on Wednesdays from 6–7 p.m. and Fridays from 12:30–1:30 p.m. throughout the summer. Upcoming shows include singer/songwriter Niu Raza (July 19), pianist/composer Joel LaRue Smith (July 21), the seven-piece progressive folk band BEARD (July 26) and the five-piece jazz combo Properly Unprepared (July 28).
Harborwalk Sounds: The Institute of Contemporary Art not only boasts free admission on Thursday nights from 5–9 p.m., but the waterfront museum also presents the hottest talent from Berklee College of Music on the outdoor Alan and Vivien Hassenfeld Harborwalk from 6–8:30 p.m.
Summer in the City (Boston Harbor Hotel, 70 Rowes Wharf, 617-439-7000, bhh.com): This annual series showcases live music Tuesday through Thursday nights on a floating stage overlooking Boston Harbor as well as free classic and contemporary films on Friday evenings, including Cheaper by the Dozen (July 21) and The Little Mermaid (July 28).