Boston Accent: Reel Life
Lisa Viola, Director of Programming for the GlobeDocs Film Festival, brings to light fascinating, true-life stories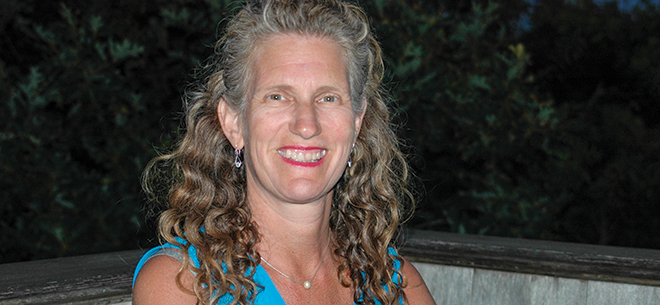 Three years ago, documentary film buff and Brookline, Mass. native Lisa Viola was approached by the Boston Globe with a proposal to help build "a film festival exposing Boston as a pillar of the documentary community." Viola eagerly accepted, becoming director of programming for the GlobeDocs Film Festival, now a highly anticipated annual series of screenings in theaters across Boston, Cambridge and Brookline from October 11–15.
While GlobeDocs celebrates incredible films first and foremost, each screening has the added attraction of a discussion featuring Boston Globe journalists. According to Viola, journalists and documentary filmmakers work in similar ways. "Boston Globe reporters, especially the Spotlight team, delve into stories throughout the year. Documentary film brings that to the audience in a visual way. Both practices involve incredible depths of research, which the festival highlights."
Viola also invests a lot of time and effort in research, which for her means carefully evaluating which films will most likely interest the projected 5,000 attendees. This year's opening film, Bending the Arc, explains how the Boston-based NGO Partners in Health was founded in the 1980s by three young doctors and activists who wanted to change the medical industry for the better. Boston's booming restaurant scene also gets coverage in the closing film, A Fine Line, filmmaker Joanna James's ode to female chef-restaurateurs, including her mother Chef Valerie James of Val's Restaurant & Lounge in Holden, Mass. "Our opening- and closing-night films will make quite a splash," Viola predicts.
Viola can't wait to share these documentaries—many of which will be difficult to find in theaters aside from their GlobeDocs premiere—with fellow documentary fans. "I love scouting and watching these films all year, but the most enriching part for me is when we get to share them with audiences. We, as a culture, are bombarded by all kinds of information, but a documentary allows us to pause and go in-depth on one topic.…It's an amazing experience." And though Viola curated these films with Bostonians in mind, "this festival is wide-open to the public," she continues. "We really want to engage with as many people as we can."
GlobeDocs Film Festival
October 11–15 at various locations, filmfest.bostonglobe.com