Boston Accent: Wining & Rocking
Michael Dorf, founder and CEO of City Winery, gives Panorama a backstage look at the Hub's newest concert hall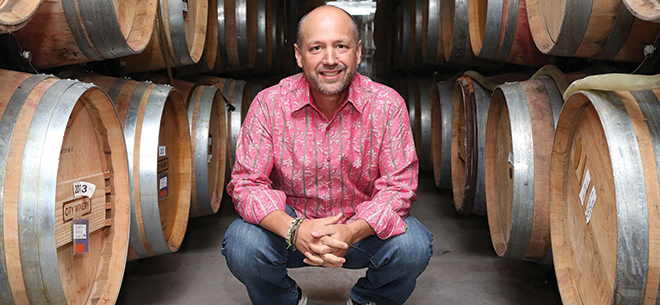 Michael Dorf is the kind of visionary who creates services you never knew you wanted, until you see them. Such is City Winery, a fusion of urban winery, upscale restaurant and concert venue that opens soon at One Canal Street. City Winery got its start 10 years ago in New York City, where Dorf ran a concert venue called the Knitting Factory. He noticed that an entire segment of the music-loving public was going un-served—those who'd prefer sitting through a show with glasses of wine rather than having their beers jostled on a crowded floor.
While City Winery makes headlines as a concert venue, it really does give wine-making a front-row seat, with about 30 vineyards under contract in prime wine-growing regions across California, Washington, Oregon and New York. The stainless steel equipment and oak barrels visible from its lobby bar are not just for show, and a partnership with Riedel—the ne plus ultra of the stemware world—ensures an elevated tasting experience. The Mediterranean-inspired menu offers great pairings for the wines, and can be enjoyed for lunch or dinner anytime in the "Barrel Room."
Yet to appreciate the full City Winery treatment, come for a meal and a concert. "Our concerts are a luxurious experience," Dorf says. "We never try to cram people in or push them out to get the next show on. We want you to savor your meal—really indulge your senses." This fall, you can indulge those senses with everything from blues rock by Texas guitarist Doyle Bramhall II (November 21) to a two-night stand by singer/songwriter Rufus Wainwright (November 28 & 29). Dorf is proud that many musicians happily return to his winery venues. "We are lucky.…It was easy to ask these artists to grace the stage in Boston, and they are all world-class entertainers."
City Winery earned rave reviews when it debuted in New York, and Dorf is hoping for a similar response in Boston. "It's a very sophisticated market," he explains. "Boston has a robust culinary scene and has historically been a great stop for music tours, yet before us there was no 300-person, sit-down venue. We saw a real opportunity."
Cheers to that!