Boston Accent: Building A Legacy
Architect Maurice N. Finegold reflects on his accomplishments and talks about receiving the Lifetime Achievement Award at AD20/21 Home's Gala Preview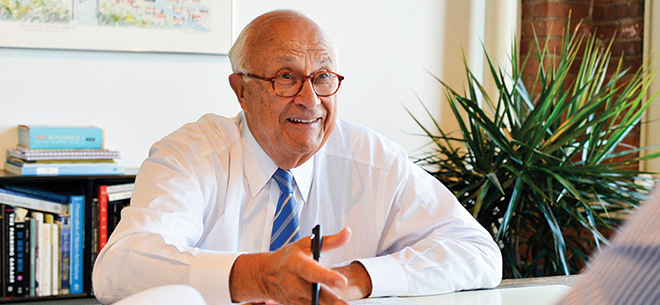 Each year, AD20/21 Home—a contemporary art and home décor show coinciding with Boston Design Week—celebrates the achievements of a local contributor to the field of design with its Lifetime Achievement Award. This April, the award is presented to Boston architect Maurice N. Finegold, FAIA.
Finegold first became interested in architecture during a seventh grade art project, and went on to earn his M.A. from the Harvard Graduate School of Design. He boasts a highly lauded career that includes many restoration projects—for example, his restoration of the governor's suite in early American architect Charles Bulfinch's Massachusetts State House. Beyond Boston, he worked on the U.S. Holocaust Memorial Museum in Washington, D.C., which led to numerous commissions for synagogues and community centers across America. Finegold considers his seminal work to be the master planning study for the preservation and development of the Miami Beach Art Deco District. Completed in the 1980s, it won national attention and awards, and was a breakthrough in the field of urban revitalization.
His firm, Finegold Alexander Architects, is a pioneer of "adaptive use" projects, in which existing structures are repurposed "in such a way that you really have a jewel in the end of the process." One of his first adaptive use projects turned the historic Durfee High School building in Fall River, Mass., into a courthouse. "When you have an existing building…the project becomes an act of remembrance for the community, while also showing an exciting path forward.
"I feel very honored and pleased to be recognized during Design Week in Boston," Finegold continues, "but it's not just about me. I represent a firm of really skilled people which takes great delight in imagining or reimagining projects to enhance a community's quality of life through design excellence. I think that's important, along with being environmentally responsible and making things accessible to all people.
"I went into architecture because…I decided that I was going to make the world a better place by making it a more beautiful place. What I find I've been doing is not just designing new buildings, but adding to existing buildings, adapting them for new uses, restoring them…it's a wide variety of activities. It's very stimulating. You never know what tomorrow brings."