A Peek at the Past: Saint Anthony's Feast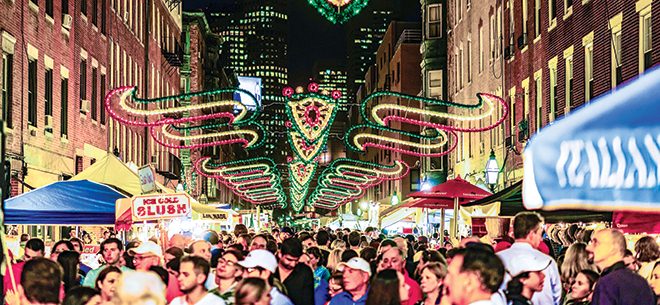 Photo: Matt Conti/mattconti.com
Brought to Boston by Italian immigrants from the small mountain town of Montefalcione, Saint Anthony's Feast has been celebrated with the same European flair for the past 99 years. To honor their patron saint, the immigrants of Montefalcione formed the non-profit organization San Antonio Di Padova Montefalcione Inc. nearly a century ago to keep their heritage alive in the Hub. Since 1919, Saint Anthony's Feast has traditionally been held in the streets of the North End on the weekend of the last Sunday in August.
Celebrated all over the world, Saint Anthony of Padua is one of the most popular and beloved saints in the Catholic religion. Ever lost your keys? Pray to Saint Anthony to help you find them, as he is referred to as the "finder of lost articles." He was the second-fastest person to be canonized as a saint, recognized less than one year after his death. He also holds the title Doctor of the Church, an honor bestowed upon only a few esteemed Catholics.
Today, his feast celebrates this legacy with parades, religious services, Italian cuisine and beautiful displays of admiration throughout the North End. The highlight is the 10-hour procession of the statue of Saint Anthony through the streets of the North End accompanied by devotees, marching bands and floats. It is then returned to its chapel as confetti cascades from the rooftops.
Bostonians, Italians and non-Italians alike come together to honor Saint Anthony and celebrate the end of summer in the city. There's an abundance of live entertainment, contests, religious services and, of course, delicious Italian food for sale from more than 100 pushcarts. Join the revelry this year from August 23–26 and experience what no less than National Geographic has declared as the "feast of all feasts."