A Peek at the Past: Colonial Theatre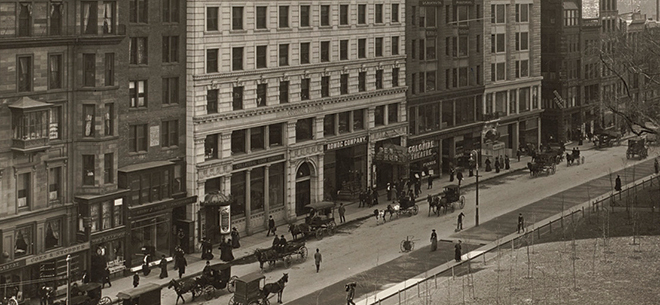 Photo: Thomas E. Marr, C. 1900/Courtesy of Boston Public Library
Officially known as the Emerson Colonial Theatre, Boston's oldest existing theater has been in near-continuous use since it debuted in 1900. Recently renovated under the auspices of current owner Emerson College and operator, the London-based Ambassador Theatre Group (ATG), the Colonial Theatre is perhaps the Hub's most legendary venue for live shows.
Ensconced in an office building on a site formerly occupied by the Boston Public Library and designed by renowned theater architect Clarence Blackall, the richly appointed venue opened to the public on December 20, 1900 for the local run of the 1899 Broadway hit Ben-Hur. That massive show was a huge sensation, boasting a cast of 360 and a chariot race with eight horses right on stage—not to mention future British Prime Minister Winston Churchill as an audience member.
Despite a brief period where early silent films were shown, the Colonial became famous in its heyday for being the first home to musicals and plays that went on to all-time great status. Among these productions were the pre-Broadway versions of Anything Goes (1934), Porgy and Bess (1935), Oklahoma! (then known as Away We Go!, 1943), Follies (1971) and La Cage aux Folles (1983). One infamous incident in 1978 during the try-out of Dancin' involved iconic choreographer and director Bob Fosse, who chipped an onyx table in the ladies' room lounge while demonstrating a tap routine on top of it. The damaged spot soon became a lucky charm for visiting crew members, who often came by to touch it.
The Colonial—a survivor of the Depression, the advent of film and television, falling out of favor as a pre-Broadway stop and multiple renovations—found itself at a crossroads in 2015, when, once again in need of millions of dollars of repairs, its future as a theater palace was in doubt. After Emerson's plan to use the space for a student center was scrapped, a partnership between the school and ATG was forged to re-open the theater and revive its status as a prime stopover on the road to the Great White Way. The completed refurbishments eventually led to the world premiere of recent Broadway transfer Moulin Rouge! The Musical in July 2018, followed by a slew of shows, live concerts and other forms of entertainment since then. The 2019–2020 season opens with David Byrne's American Utopia, which moves to New York in October.