North End Feasts Return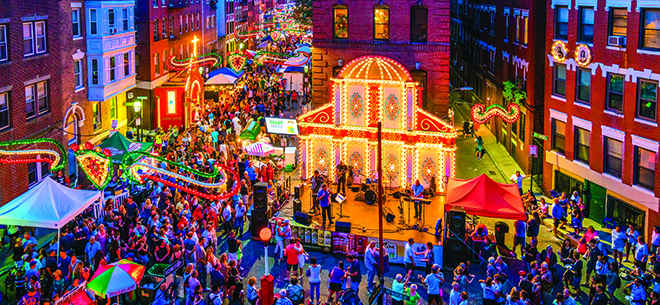 Photo: Matthew J. Conti/MattConti.com
Long-awaited and much-anticipated even in so-called "normal" times, the feasts and processions of the very Italian North End of Boston are summer staples that are not to be missed. Several of these religious-based processions dedicated to individual saints have already taken place, yet the ones with the aromatic, beloved street festivals surrounding the proceedings are just getting underway. While these cannoli- and sausage-filled celebrations all have much in common—including the parading of holy likenesses through the North End's narrow lanes, which are lined with food vendors selling everything from arancini to calamari—each event has its own unique features and traditions.
First up is the St. Agrippina de Mineo Feast, which runs July 29–August 1. Centered around Hanover and Battery streets, this celebration of the patron saint of thunderstorms, leprosy and evil spirits features live music, plenty of Italian delicacies and charity raffles in addition to the daily procession of the saint's statue. In the same area from August 6–8, savor the Madonna Della Cava Feast, which mirrors a similar event from Sicily honoring a miracle that took place there in the 13th century involving a young mute boy who helped uncover an image of the Virgin Mary and had his voice restored. In accordance with a long-held superstition, a banner with the Madonna's image is carried through the streets in lieu of a statue for fear that the statue would fall and break. One of the neighborhood's biggest festivals, The Fisherman's Feast, is also its oldest. Taking place August 12–15, the 111-year-old tradition culminates in the famous Flight of the Angel, a ceremony in which a local girl dressed as an angel is lowered over the crowd toward the statue of the Madonna del Soccorso di Sciacca. Also look out for live music, raffles, beer gardens, games, cooking demonstrations, and, of course, dozens of food vendors along Fleet, Lewis and North streets.
Billed as the "Feast of all Feasts" by no less than National Geographic, the beloved Saint Anthony Feast (pictured) returns to Endicott, Thacher and North Margin streets August 26–29. The final festival of the season has been going strong since 1919 thanks to Italian immigrants from the village of Montefacione in Avellino who wanted to pay tribute to the revered champion of the poor. Along with processions of Saint Anthony's statue, expect loads of delicious food from the legendary Regina Pizzeria and many others, along with parades featuring marching bands, live music on the main stage and presentations from Boston's best chefs on the Felippo Berio Culinary Stage. Long after the confetti has been swept up, patrons are sure to have fond memories of these joyous extravaganzas for years to come.