High 5: MLK Weekend Events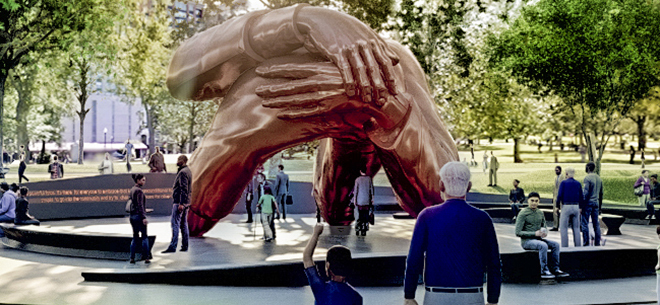 Photo: courtesy of Embrace Boston
Honor the legacy of Dr. Martin Luther King, Jr. in Boston at these powerful get-togethers
The Embrace (pictured): The Boston Common memorial to both Dr. King and his wife Coretta Scott King is officially unveiled near the Parkman Bandstand on January 13 at 1 p.m. Expect much pomp and circumstance for this momentous event, which streams live on NBC10 Boston in addition to being projected on several large screens throughout the area. Based on a famous photo of the couple, the shimmering bronze designed by artist Hank Willis Thomas that has been in the works for years has finally come to fruition.
Hear Her Sing For Freedom: Before she was the wife of the Civil Rights icon, Coretta Scott King was a voice student at Boston's New England Conservatory. This performance, adapted by Najee Brown, takes place January 13–16 at Cambridge's Multicultural Arts Center and explores Scott King's legacy of Freedom Concerts, which she staged to help fund the movement.
The 53rd Annual Martin Luther King, Jr. Memorial Breakfast: This venerable celebration of MLK's life, one of the oldest of its kind in the country, returns to the Boston Convention & Exhibition Center at 9 a.m. on January 16. The 2023 theme, "Reclaiming Our Rights: Education and Activism," is highlighted by keynote speaker Jelani Cobb, writer for The New Yorker and dean of the Columbia School of Journalism.
Museum of Fine Arts MLK Day Open House: The MFA continues its tradition of throwing open its doors on the official observance of Martin Luther King, Jr. Day. On January 16 from 10 a.m.–5 p.m., expect special performances and lectures, along with art-making activities and glimpses of exhibits like the current Life Magazine and the Power of Photography display.
Becoming King: 20th Annual Dr. Martin Luther King, Jr. Tribute Concert: Boston Children's Chorus continues this two-decade tradition at Symphony Hall on January 16 at 4 p.m. This year's program reflects on Dr. King's formative years in Boston and how he became one of the most pivotal figures of his era.