A Peek at the Past: Tremont Street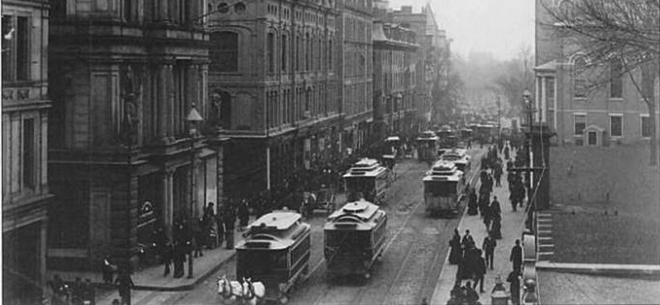 Tremont Street, 1891
One of Boston's grandest boulevards, Tremont Street is not only the site of many exciting destinations—from acclaimed restaurants and trendy boutiques to historic theaters and the Boston Center for the Arts' Cyclorama, home to the upcoming Boston Home Décor Show—but it has also been witness to many momentous happenings over the decades.
Beginning in Downtown Boston near the heart of the Freedom Trail before zigzagging from the Theatre District into the South End and towards its terminus at Brigham Circle in the Hub's Mission Hill neighborhood, Tremont Street has origins dating back to the Colonial era. Back then, its most prominent section—the part bordering Boston Common, America's first public park—was known as (wait for it) Common Street. The name Tremont, however, is a derivation of Trimountaine, which references the original three peaks that formerly made up the area now known as Beacon Hill and was an early name for the city. During that period, landmarks like King's Chapel and the Old Granary Burying Ground cropped up along this busy artery. As the city grew and modernized in the 19th century, street cars were a familiar sight on the densely trafficked cobblestones of Tremont. This congestion led to one of the most revolutionary transportation developments of its day.
Beginning in 1895, construction began on what eventually became known as the Tremont Street Subway. Originally consisting of the still-existing Park Street and Boylston stations, this underground, electricity-powered transit system was the first of its kind in the U.S. when it was completed in 1897. Although the network of subways and street cars in Boston, now known as the Massachusetts Bay Transportation Authority (MBTA), was eventually expanded and made a public entity, the line was originally privately owned by the West End Street Railway. Anyone looking to get a glimpse of what the original stations looked like need go no further than Boylston station, which even displays several mid-20th century subway cars on a decommissioned track.
Today, whether travelling above or below it, Tremont Street remains a vital thoroughfare for the City of Boston.