Boston Accent: A Doll's House
Brother John Jaskowiak, O.F.M., showcases his unique collection at Downtown Crossing's St. Anthony Shrine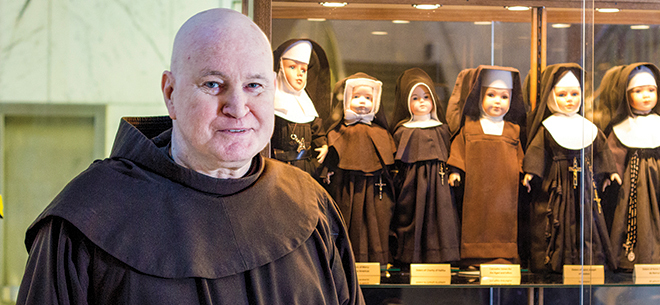 Photo: Ellysia Francovitch
The holidays are here and Boston's Downtown Crossing is brimming with the hustle and bustle of shopping and revelry, yet right in the midst of this busy district is an unexpected oasis—St. Anthony Shrine, a community of Franciscan brothers and priests on Arch Street. Supporting the diversity of its neighborhood with dozens of services, from Latino and LGBTQ ministries to programs for seniors and the homeless, St. Anthony Shrine welcomes all visitors. For the holiday season, anyone in the area in need of some calm can stop by the shrine to enjoy a traditional crèche scene brightening the altar with the biblical Christmas story, all set before a backdrop of evergreen trees covered in blue lights like a starry winter sky.
Brother John Jaskowiak first installed the Christmas crèche at St. Anthony 45 years ago, driving into Boston with the five fresh trees the crèche required strapped atop a station wagon, and carefully tending to the figurines year after year. While these tasks have now fallen to the younger people in his community, Br. John's devotion to detail remains apparent in his other project, a collection of dolls dressed in traditional nun habits, 25 of which are on view in the shrine's main lobby. Br. John carefully sews each costume, often based on patterns from the nuns themselves. "When I started, I had no idea how to sew," says Br. John as he explains his process. He calls his first attempts three decades ago—dolls given to close friends—"primitive," but it is clear that, with the years, he has mastered a craft that few of those rifling through the clothes racks of Downtown Crossing's Macy's and Primark stores know how to practice any more. Now, 150 dolls later, Br. John sees his collection as a "tribute" to these devout women, and curious visitors will be as impressed by the variety and accuracy in the dolls' clothing as they would be at meeting the humble man who makes them.
Whether you are a Boston native and practicing Catholic, or a curious visitor of any persuasion, St. Anthony Shrine is a hidden gem, a welcoming space of quiet beauty, history and devotion in the heart of the Hub's Downtown.
St. Anthony Shrine
100 Arch St., 617-542-6440, stanthonyshrine.org