Boston Accent: Still Rocking Boston
Buffalo Tom singer/guitarist Bill Janovitz carries the torch for Boston's rock scene at this year's Boston Calling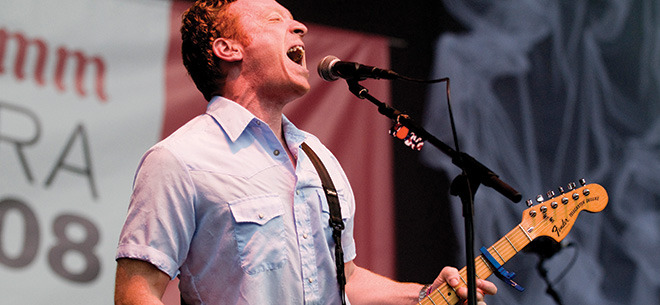 Photo: Livepict.com/Wikimedia Commons
For Bill Janovitz, the dream to be a rock star was always there. "Wherever I could, I'd listen to records. I grabbed a guitar when I was about 12 and never really looked back, but I was still pretty practical about it," Janovitz remembers. During his college days at UMass Amherst in the late 1980s, Janovitz and friends Chris Colbourn and Tom Maginnis starting writing songs and playing as an alt-rock band. Calling themselves Buffalo Tom, they soon earned record deals with respected indie labels. "We realized that this could be a career…but we never knew for sure, from year to year, if we were going to keep doing it."
Leaving Western Massachuestts for Somerville, just north of Boston, Buffalo Tom found itself immersed in a rich moment for rock music. "Lots of great bands were coming out of Boston, like The Lemonheads, Moving Targets and Pixies," says Janovitz, listing just a few. In fact, Buffalo Tom was headlining internationally before they could book gigs in Boston clubs. The band played at huge music festivals like the 1992 Reading Festival in the UK (with Nirvana and Public Enemy), but "Boston was a very competitive atmosphere back then!" Janovitz laughs. "We were not a local phenomenon."
While the music industry may have changed, Buffalo Tom is still going strong three decades and 10 albums later. Janovitz continues to do "what I was always mostly interested in: writing music and recording it.…We're working on a new record now, just putting the finishing touches on it." There is also a 25th anniversary re-issue of Let Me Come Over—Buffalo Tom's breakthrough record—that was just released on May 19.
Also happening this spring is Boston's highly anticipated music festival, Boston Calling (May 26–28), in the edgy, student- and musician-filled neighborhood of Allston. Janovitz is thrilled that Buffalo Tom is in the lineup. He had attended before as an audience member, when Boston Calling took place at City Hall Plaza. "I'm looking forward to this new setting," he says, "and this is one of the best lineups out of all the festivals that they have done.…It's really well-balanced and compelling."
And it's the perfect chance to see a great Boston band rock on.