A Peek at the Past: Long Wharf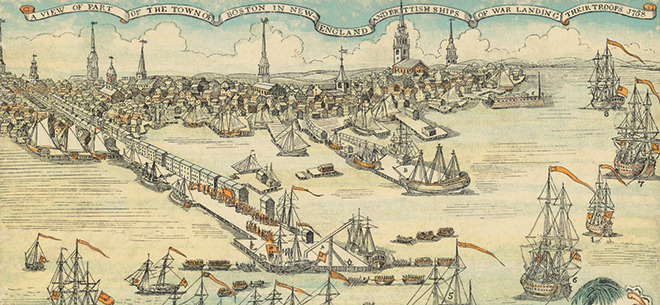 1898 reproduction of a 1768 print by Paul Revere/courtesy Boston Public Library
One of the most aptly named landmarks in Boston, Long Wharf may not seem to live up to its moniker by modern standards. This impressive pier, however, definitely stood out when it was created between 1711 and 1715. In fact, due to the changing nature of the Hub's shoreline, Long Wharf was once even longer.
In the colonial days, Boston's shoreline began near where Faneuil Hall, an important commercial nexus, stands today. The waterfront was the lifeblood of the young town, so piers were constructed to accommodate seafaring trade activity. Built by Captain Oliver Noyes and some associates to encourage more trade and extending about a third of a mile when completed, Long Wharf protruded into deep water, allowing for larger cargo ships to unload near the warehouses then lining Boston Harbor. It also had an additional attraction for the town fathers that approved its construction—it initially had an array of guns placed on its end to help protect the harbor.
Landfill projects over the years may have curtailed its length, yet Long Wharf's extensive history has earned the structure National Historic Landmark status. It is home to another National Historic Landmark, the 1848 Custom House Block, as well as the circa 1760 Gardiner Building, which was the counting house of prominent merchant and Founding Father John Hancock. The brick edifice is now home to the Boston location of the Chart House restaurant.
Today, Long Wharf is home to ferry and tour boats, a seasonal outdoor bar and a Marriott hotel. As Sail Boston 2017 gets underway, Long Wharf should be one of many prime locations from which to view dozens of tall ships as they move into Boston Harbor, especially during the Grand Parade of Sail on June 17, as well as a great departure point for cruises offering up-close vantages of the vessels.