Boston Accent: Hall of Fame
Faneuil Hall Marketplace Merchant's Association President Carol Troxell discusses the historic shopping, dining and entertainment destination's 40th anniversary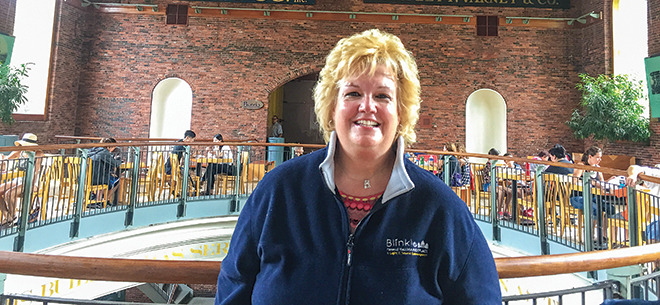 On a summer evening at Faneuil Hall Marketplace, the sizzle of fried seafood mingles with the aroma of fresh pizza as children devour ice cream in the food colonnade. Couples stroll hand in hand, while others balance shopping bags along one arm. Visitors who have arrived via the Freedom Trail to see the historic area also flock to pushcarts to score the perfect souvenir. Along broad pedestrian walkways, a sea of people eddies in tight knots around performing jugglers and magicians.
This is the everyday atmosphere of "America's first festival marketplace," as Carol Troxell, president of the Faneuil Hall Marketplace Merchant's Association, calls it. Known in American history as a platform for speeches by Samuel Adams and other patriots that fueled the cause of independence from Great Britain, today the Marketplace encompasses a cluster of picturesque buildings conveniently located between Downtown and the North End, "where you can gather to meet friends, experience foods from around the world and shop locally to support the merchants."
With this wealth of options, where should the savvy visitor begin? Troxell recommends starting your day at the Rotunda of Quincy Market, where you can pick up the Faneuil Hall Marketplace Neighborhood Guide, with its map and list of shops and restaurants to help orient your exploration. To further the excitement of your visit, incorporate one of the regularly scheduled special events. Summer sees the return of popular attractions such as the Street Performer Showcase (August 5 & 6), one of Troxell's favorites. "Our world-famous street performers are part of the fabric of the Marketplace.…They enliven the Quincy Market area in the true spirit of what we are, a festival marketplace." For cinephiles, a new, outdoor summer movie series features musicals (Thursdays in August) and cult classics (Fridays in September). And on August 3, sports fanatics are invited to celebrate Tom Brady's birthday with music, life-size cutouts (for selfies, of course) and special discounts for those wearing Patriots gear.
"The Marketplace truly comes alive during the summer," Troxell concludes with pride. "We have it all." As street lamps glow beneath the twilight sky, illuminating the crowds who continue to browse for gifts, relax and sway to the music of local musicians, it seems that all of Boston agrees.