A Peek at the Past: Orpheum Theatre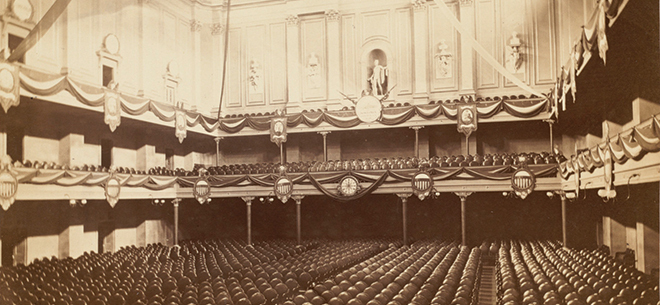 Photo: Courtesy of Boston Public Library
Boston's oldest entertainment palace, located in the heart of the Theatre District, has accumulated a distinguished history in its long and sometimes tumultuous tenure. The Orpheum Theatre, which began its life as the Music Hall in 1852, has been subject to one transformation after another, not the least of which has been its many name changes.
Several years after the Music Hall made its debut—an event which featured a performance by the Hub's venerable Handel and Haydn Society—it became home to the nascent Boston Symphony Orchestra (BSO). The Music Hall also hosted many lectures and events: Frederick Douglass, Wendell Phillips, Harriet Beecher Stowe, William Lloyd Garrison and Harriet Tubman celebrated the Emancipation Proclamation there in 1862, and the likes of Oscar Wilde, Booker T. Washington and Ralph Waldo Emerson even spoke on its stage. In 1900, the BSO departed for its new home in the Fenway neighborhood, Symphony Hall. Re-purposed for vaudeville and subject to a few name changes, including the Empire Theatre, the venue eventually acquired its current name, Orpheum Theatre, with an ownership change in 1906. Further change was in the air when, in 1915, the Orpheum was purchased by Loews Theatres and the interior was completely renovated to the configuration patrons are familiar with today by renowned theater architect Thomas Lamb, eventually re-opening in 1916 as a vaudeville and movie house.
Vaudeville performances were abandoned in the 1930s, leaving the Orpheum strictly as a movie theater, although competition for first-run films forced another metamorphosis—this time into a concert hall called the Aquarius—in the early 1970s, with James Brown as one of the initial shows. A brief detour into opera, and a name change back to the Orpheum Theatre, occurred in the mid-1970s when the Boston Opera Company took control. Rock and pop concerts returned for good by the late 1970s, with legendary appearances over the years by The Police, U2, Aerosmith and David Bowie's Tin Machine even being recorded there.
Today, the Orpheum, accessible by an alley known as Hamilton Place, remains a popular spot for some of music's biggest acts, as well as the latest family-oriented extravaganzas. On September 21, kids and their grown-ups can experience Shopkins Live! Shop It Up!, while more adult fare returns September 23 when former Beach Boy Brian Wilson presents Pet Sounds—The Final Performances with cohort Al Jardine.