A Peek at the Past: Boston Arena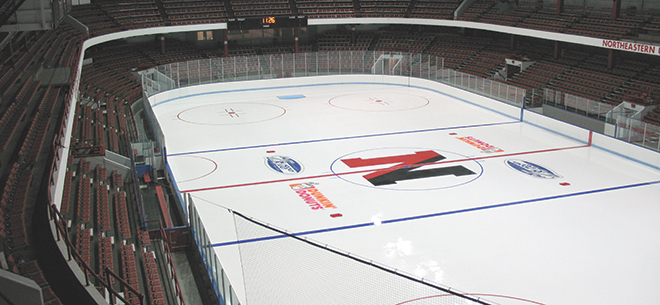 Photo: Nusportsinfo/WikiMedia Commons
Purchased by Northeastern University in 1979 and subsequently re-named Matthews Arena (238 St. Botolph St., 617-373-2691, pictured), the current home of the Huskies' men's and women's hockey and men's basketball teams is arguably the most distinguished sports facility in the nation—or even the world, for that matter. And this is for reasons that even the most die-hard Boston sports fans might not even know.
Opened in 1910 in the Fenway neighborhood, the structure originally known as the Boston Arena is the oldest multi-purpose athletic building in the world still in use, as well as the home of the planet's oldest artificial indoor ice sheet—although due to various fires, renovations and improvements over the years, the building doesn't match its bygone incarnation exactly. The venerable edifice was responsible for bringing the formerly outdoor sport of hockey indoors for early 20th century Bostonians, hosting countless games for local high schoolers, college players and club teams. At the professional level, the Boston Arena has the distinction of being the site of the inaugural Boston Bruins game on December 1, 1924. The National Hockey League's initial U.S. franchise hosted the Montreal Maroons, defeating them 2–1 in that historic match-up, the first NHL tilt in this country. The Bruins would go on to call the Boston Arena home until they moved to the old Boston Garden in 1928. The Boston Celtics also competed at the Boston Arena, playing their home games on the Fenway court from 1946–1955. The area's beloved Beanpot college hockey tournament first took place under the arena's roof in 1952, and hockey teams like the defunct Bruins farm team the Boston Olympics and the WHA's New England Whalers (now the NHL's Carolina Hurricanes) once graced the ice surface on a regular basis. In addition, some of the most famous figures of the 20th century—Joe Louis, Babe Ruth, both President Roosevelts, John F. Kennedy, Dwight D. Eisenhower, Charles Lindbergh, Amelia Earhart, Chuck Berry, Diana Ross and Bob Dylan, among them—have haunted this hall either as athletic competitors, speech-givers or concert performers.
Boasting a capacity of 4,666 for hockey and 5,066 for basketball—as well as many modern amenities due to a centennial-marking, multi-million dollar reboot in 2010—Matthews Arena ably carries on the traditions established by the Boston Arena. College sports fans can find information on upcoming games at gonu.com, and public skating information can be found at northeastern.edu/campusrec/general/skate.php.