High 5: Edgar Allan Poe Sites
Follow in the footsteps of the Boston-born master of the macabre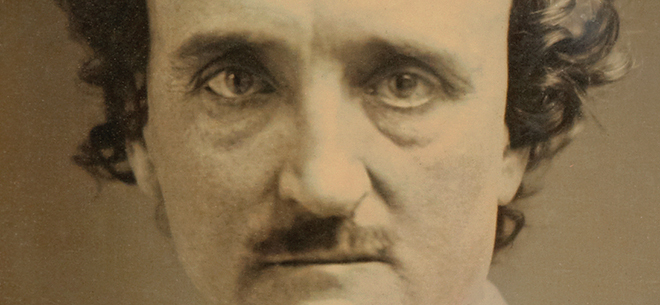 Poe Birthplace Plaque (176 Boylston St., corner of Boylston Street and Edgar Allan Poe Way): Although not 100% accurate, this bronze marker, dedicated in 1989, is affixed to a building near the no-longer-extant edifice on Carver Street (itself no longer in existence) where Poe was born to actors David and Elizabeth in 1809.
Poe Returning to Boston Statue (corner of Charles and Boylston streets): Unveiled in 2014 near his birthplace in what is now known as Edgar Allan Poe Square, this street-level bronze by Stefanie Rocknak depicts the writer in full stride, complete with a raven, a human heart and a case from which his manuscripts fly.
Fort Independence (Castle Island, 2010 Day Blvd., South Boston, 617-727-5290): During Poe's time in the army, the nascent writer served here in 1827, the same year he published his first work. Allegedly, a legend that he heard here inspired his infamous story, 1846's "The Cask of Amontillado."
Boston Common Frog Pond: Poe facetiously referred to Boston's literary establishment as "Frogpondians" due to their constant croaking criticism. Although this seasonal spray pool/ice skating rink doesn't resemble even remotely the original site with which Poe was familiar, it can still be visited today, complete with bronze frog statues and a playground sure to appeal to kids.
Boston Public Library: Not just a place to check out his books, the BPL also houses a bronze bust of the author in the Johnson building of its Copley Square branch, which was placed due to the efforts of such horror icons as Peter Straub, Guillermo del Toro, Neil Gaiman and George R.R. Martin, among others. On November 4 at 1 p.m. in Rabb Hall, check out a screening of Edgar Allan Poe: Buried Alive, followed by a talk with filmmaker Eric Stange and local Poe scholar Paul Lewis.