High 5: Holiday Shows
Brighten your season with one of these yuletide extravaganzas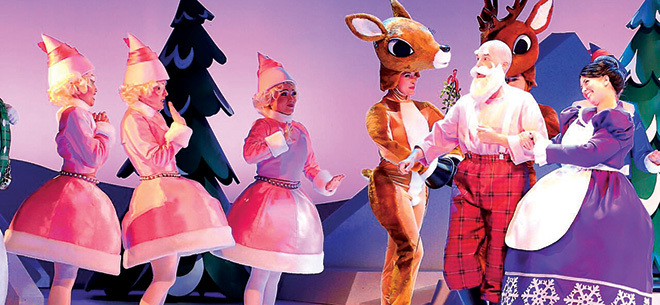 The Nutcracker: Boston Ballet's beloved rendition of the Tchaikovsky classic dazzles with lush sets, colorful costumes and expert dancing from both the company's dancers and dozens of local children from the Boston Ballet School.
A Christmas Carol: A staple on the state's North Shore since 1989, this original musical version of Dickens' ghostly tale of redemption is chock full of holiday—ahem—spirit.
Rudolph the Red-Nosed Reindeer: The Musical (pictured): The Rankin/Bass-produced, stop-motion-animated television special, which debuted in 1964, lives on in this musical re-telling of the uplifting tale of an outcast reindeer who finds his place in the world thanks to his brightly colored honker.
A Christmas Celtic Sojourn: Celebrate the season with an Irish accent as the stage version of this popular radio program brings the world of Celtic music and dance to the Theatre District for its 15th year.
Urban Nutcracker: The 17th edition of this hip-hop and jazz-infused iteration of the Christmas spectacle infuses new life—and a heaping dose of local flavor—into the familiar E.T.A. Hoffmann tale by transporting the action to modern-day Boston.